September 30, 2010 in Uncategorized
Jozi, Jozi. A mixed sort of a day, after all was said and done I was happy to see that we had added one third of a percent to close above that 29 thousand level for the first time since the end of April this year. And September so far has been a cracker, in fact the all share was at 27254 at the beginning of the month, so there has been 1800 points tacked on by the broader market. There was the most favourable inflation read in five years, with a CPI read better than the expectations at 3.5 percent. Yowsers.
What moved my Jozi markets? Session end the Jozi all share index clocked in at 29069, up 97 points or about one third of a percent. Resource stocks held the market back, down half a percent on the day. General retailers had a great time on account of an almost certainty of a rate cut at the next meeting. I still remember the Reserve Bank governor signing off with I will see you at the next meeting, if not before that. Do you think?
All I have heard since BHP Billiton put forward a price for Potash is that there is going to be a counter bid here, or there, or from this group or that. And yet, I have still seen nothing concrete. I said at the time (perhaps naively) that I thought that BHP Billiton were the ONLY company that could make a bid of that size. It was just too big for Rio Tinto, and their shareholders are shy of taking on more debt again and Vale had other issues of sorts, although they might find it easier to muster up the cash than Rio.
A couple of news pieces that interested me about the BHP Billiton Potash which struck me as worth sharing, oh ja, thought so: Sinochem struggling to mount Potash bid. Try and ignore some of the crazy Google adverts. Although the related links below suggest that Sinochem could be close to bringing together a few parties to make a counter bid. For the time being, if they had the money, or were looking seriously, that suitor is waiting for injury time before making an appearance.
And it turns out that Marius Kloppers visit to Canada has failed to impress the relevant folks, although I am sure that he will tell you otherwise in his strange Nathaniel type way. Do you see that from this article: BHP's Courting Falls Short in Impressing Canadian Potash Stakeholders, that there is a specific law around deals this size. But like I said, as in the iron ore JV that is pending with Rio Tinto in the Pilbara area in Australia, I am sure that BHP Billiton have done their homework before they made the offer to shareholders official.
I don't buy that a large multinational with the kind of resources that BHP Billiton have WONT be beneficial for Canada. Is that not a kind of thumbs up for your area and could mean that over time the size and scale of the machine BHP Billiton would mean more investment than a company the size of Potash Corp. Who one would think are constrained somewhat, when compared to the financial muscle of BHP Billiton. Point made, let us move on.
Yay, the stale local CPI data for the month of August was released at the end of September yesterday. I am being too hard on the fellows over at StatsSa, I think that they have done an amazing job at restoring credibility after some questionable statistics a number of years ago. You see, time heals all. In some cases, ask ex Governor of New York general Eliot Spitzer, you can get a TV show on CNN, just two years after resigning from public office. For, how should we say, being a client of a prostitute ring. I tell you, there was some parties on Wall Street back in March 2008, they did not like Spitzer when he was attorney general.
Anyway, here it is, the official release: Consumer Price Index – August 2010. Electricity which forms less than two percent of the overall basket is up 18.3 percent year on year. Yowsers. Medical services, which account for less than one percent of the basket is up 8 percent year on year. Education, which accounts for around one and a quarter percent of the basket is up 10.2 percent year on year. Communication, which accounts for 3.22 percent of the basket was down 3 percent year on year.
Clothing and footwear, at just over 4 percent of the basket only saw a year on year rise of a little over a percent. Transport accounts for a whopping 18.8 percent of the basket, yet was up only 1.1 percent. The other big contributor to the basket, Housing and Utilities, which accounts for 22.56 percent of the overall basket, was up I guess a slightly more worrying 6.3 percent year on year. That is about what the petrol price has risen over the last year, 6.4 percent. All in all, this is good and tees us up for another rate cut at the next meeting. Which the reserve bank website tells me is 17 and 18 November. Just a hunch here, but methinks that there might be an interim meeting.
Do you subscribe for the COSATU newsletter? You should, because it is always important to read everything. Yesterday I was particularly vocal and excuse me in advance used more than one expletive after I had read the rebuff to the Wal-Mart deal. But remember, I am a capitalist pig who only looks out for shareholder interests. And not the downtrodden working class of the country, but I think that these points that COSATU made about Wal-Mart is worth replying to.
So here goes, the points that they made and my replies alongside them:
"* Wal-Mart is a known anti-union company with training and toolkits for managers to keep the workplace union-free." So what? The local unions have disrupted enough business here in the last year, that does not create ANY new jobs. Wal-Mart is protecting shareholders, good for them.
"* It took almost fifty years for workers to successfully get Wal-Mart recognise a union at one of their US outlets.
* It has closed down departments and stores in North America where workers have successfully unionise themselves." Let me remind COSATU that is in America, where loose labour laws see the employment situation as completely horrible and dire, but the official unemployment rate is LESS than 10 percent. Here the official rate sees nearly one in four folks unemployed.
(I have deleted a whole lot of points, can't answer to all of them)
"* In the US wage levels at Wal-Mart has been found to be between 26%-37% lower than the national average." And? Didn't you want to continue to say that you don't need to be an engineer or investment banker to stock shelves and say that there is a special on diapers in aisle 39. Ouch.
"* In 2008 it was fined 2 billion US dollars for more than two million wage related violations.
* Recently it was compelled to pay 34 million US dollars in unpaid back wages."
I can't find anything that suggested that they ever paid the 2 billion, I have heard of the case: Wal-Mart Faces Fine in Minnesota Suit Involving Work Breaks. They actually settled later in 2008: Wal-Mart to pay $54 million to settle suit over unpaid work. Four individuals. 54 million Dollars. Nice for them.
"* Today in the US, it still represents the main opposition to a bi-partisan Free Choice Act that will allow workers to form and join unions easier." Same answer as Charlie Munger (Buffet 2nd in charge) gave the other day about charity: "I believe Costco does more for civilization than the Rockefeller Foundation". Meaning that the benefits for everyone are greater than any charity (handouts) can replicate.
"* It conducts illegal surveillance on its employees to root out any attempts to unionisation." But the burning down of a Game store in Benoni is just fine.
And lastly, I heard that Wal-Mart is responsible for employing 2.1 million people. Who would otherwise have jobs at ……..? And in fact Wal-Mart are looking at getting to around 3 million jobs over the next three years.
I had a chuckle when I saw this, Tax cuts paid for? With job creation? Can't get there from here.. You know that the rich people in the US have had a serious tax break for the last 10 odd years. The Bush tax cuts they call them, that is not fair because every member of the congress and house that voted for them has to take responsibility too, that list is just way too long though to call it the so-and-so tax cuts for the rich.
The author at the Angry Bear has actually worked out what sort of jobs the tax breaks would have created if the rich had actually created jobs with all their wealth. But they have not, as Mark Haines, the rude old lovable guy from CNBC pointed out, the Bush era created few jobs over the last ten years. In fact when taxes were higher in the Clinton era, more jobs were created. Politics? Mid-term elections?
Who cares that Moody's downgraded Spain? And anyhow, why should we be surprised at how late Moody's are, because it was laughable that Spain still had one last AAA rating. Fairly large marches across Europe yesterday against all the austerity measures that have been implemented along the way. Realistically, what do the unions suggest that the countries involved do? Borrow at much higher rates and fall foul of any new rules that the EU could impose and risk economic sanctions from the other EU members? Perhaps pull out the description from its union filing in the drawer marked "unintended consequences".
My most favourite fellow from China writes a great blog, his last one basically is what China could do with their currency if they wanted to. Not that they are inclined to, even if the US House of Representatives passed a bill which could see signed into law (after the elections is when the Senate will vote) which could see the US impose restrictions and sanctions on trade with China. Hmmm… the Chinese retaliated and said that this violates World Trade Organisation rules.
Here goes the full article from Michael Pettis (who lives and works in Beijing) on what the Chinese could do: The politics of Chinese adjustment. I have included the table below (I hope he does not mind), this all looks like good outcomes for internal consumption. Which is what we want. What we don't want with any revaluation is more expensive Chinese goods, but that is inevitable. For those who HAVE savings, these outcomes would almost all be favourable: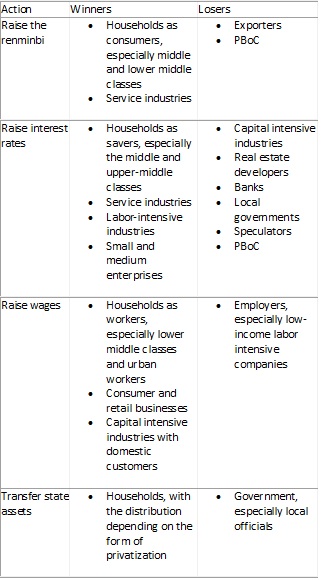 Stay tuned to the currency wars, there is something completely political about this as Prof Pettis and the commentary below refers, but a fascinating post. Nice.
New York, New York. Energy shares had a good time, BP topped 40 bucks again, first time since the big gains through July and early August. Not all the Fed is convinced that the asset purchase program (read artificially low rates) should continue, Fed Philly president Plosser is that person. Do you think that politics and the mid-term elections have anything to do with this? Plosser and Hoenig out on a limb here, good to have debate out there, don't you think?
Session end the Dow closed 22 points lower to 10835, the nerds of NASDAQ down 3 to 2376 and lastly the broader market S&P 500 turned in with a loss of nearly 3 to 1144.
Currency and commodity corner The broader commodities complex has risen through this morning, the gold price clocking another record at 1315.9 Dollars per fine ounce, the platinum price last at 1663 Dollars per fine ounce. The oil price is higher at 77.97 Dollars per barrel. The copper price is last at 366 US cents per pound. The Rand is strong (what, again?) 6.95 to the US Dollar, 11.06 to the Pound Sterling and 9.50 to the Euro.
Up periscope. We have improved through the morning here and are trading comfortably in the green, thanks to the better commodity prices over the course of the morning.
Sasha Naryshkine
Email me
Follow me on Twitter
011 022 5440