November 30, 2010 in Uncategorized
Jozi, Jozi. Wow. A chameleon day, we moved from the lush forests to the Pilbara, and our chameleon market changed accordingly from deep green to deep red. At one stage we were up 302 points on the Jozi all share, that is nearly a percent, but closed the day at 30716, down 465 points. That is a 767 points move from top to close, and for the record, the close was the day low. All sectors sold off heavily, resources, banks, financials and industrials, nobody was spared. The only major sector that squeaked into the green were the gold shares, and only just. And all of this in the face of a Dollar that is gaining momentum against the Euro, which now stands at a two month low to the greenback.
Whilst the Irish have found a better funding solution on that side of the Atlantic, at this side of the Atlantic, the fellows from Famous Brands have announced that they will buy the O'Hagan's Irish Pub and Grill franchise agreements. For the sum of less than half a percent of their market capitalisation, which is less than 21 million ZAR. Nice new strategy, I must admit, no BIG acquisitions, just small bite sized ones. Nice. My first question actually was, how would this impact any Muslim investors who would be Shariah compliant? Really, that was my first and only question. Otherwise, good luck to them, Famous Brands.
Naspers results this morning, for the first half. Before we jump into these numbers, remember through their stake in DST global that they have small indirect investments in Facebook and also in a business called Groupon. Last night Twitter was abuzz (well, the nerds I follow anyhow, it hardly is going to be a trending topic) with news that Google were looking to acquire Groupon. The Business Insider suggested that this was not going to be the case: No, Google Has Not Bought Groupon Yet. And then, DST was about to make a 100 million Dollar investment in Twitter and value the entity at 4 billion Dollars. That has traditionally been DST Global CEO's Yuri Milner's style. And Naspers style is let these alpha males run the businesses.
Naspers highlights column includes "consolidated revenues (up) by 18% and core headline earnings (increased) by 33%". "Major areas of growth were the internet and pay-television businesses. Our print media business has shown some recovery, whilst the technology business improved margins."
All good, and then the "new": "The group consolidated its internet interests in Russia, acquiring a 28,7% interest in Digital Sky Technologies ("DST") by contributing existing assets and cash. DST was subsequently renamed Mail.ru group. On 5 November 2010 Mail.ru group was listed on the London Stock Exchange and presently has a market capitalisation of some US$7,1bn. Our share is therefore worth approximately US$2bn." So, over 14 billion Rands. Just a little less than ten percent of the current market capitalisation. Astonishing.
This is a great graphic (thanks IR at Naspers) of their internet businesses, across the globe, from TenCent in China through Easter Europe and onto Brazil, check it out: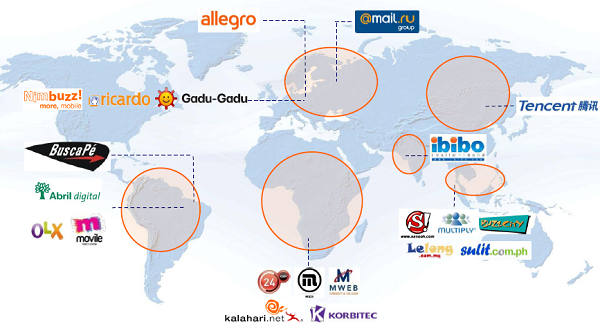 OK, check their consolidated income statement out, I have hacked this along with the above graphic from their analyst presentation: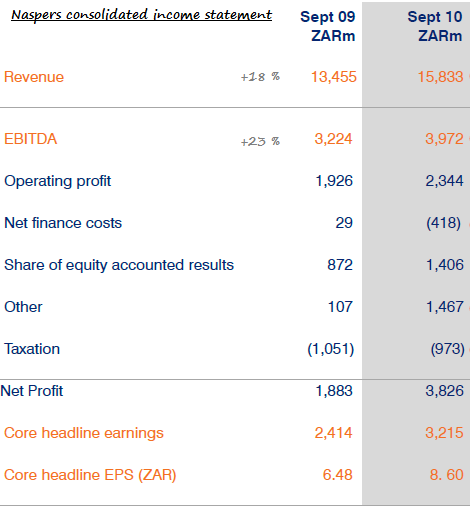 The old business (not the print, but rather TV) is still the major contributor: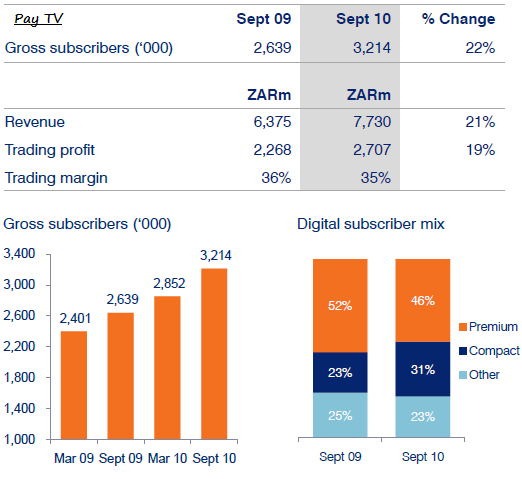 OK, core earnings per share were 860 ZAR cents for the half, with no dividend. Gearing is low, there is a whole lot of cash here and just recently a Dollar bond has been floated. I think in Ireland of all places. EBITDA margins are increasing, thanks to bigger contributions from the internet businesses. The group is pretty cautious about the next half, saying that the satellite TV business should slow a bit, post world cup. And that there could be greater regulation. But all things considered I must admit we are pretty pleased with these results.
Ye olde world. The Euro is trading at a two month low to the US Dollar, the same old (or is that olde) uglies have reared their heads again. And who is next, well the short term, I mean smart money suggests that Portugal is in the sights of the bond vigilantes. Credit default swaps for both Portugal and neighbouring Spain jumped to records yesterday. Not good and if I were Merkel and Sarkozy, I would acting fast, right now. Because it does not matter what the finance ministers tell you, but rather it matters what the markets tell you. Because finance ministers and those around them are government officials, the markets are full of hyenas. Gosh, comrade Vavi would be so proud of me for making that analogy.
You are still struggling with the credit default swap idea? I found this graphic on the web, that explains it a whole lot better than I could. Courtesy of Phil's Stock World, where I found and resized it. Hope you don't mind Phil, thanks.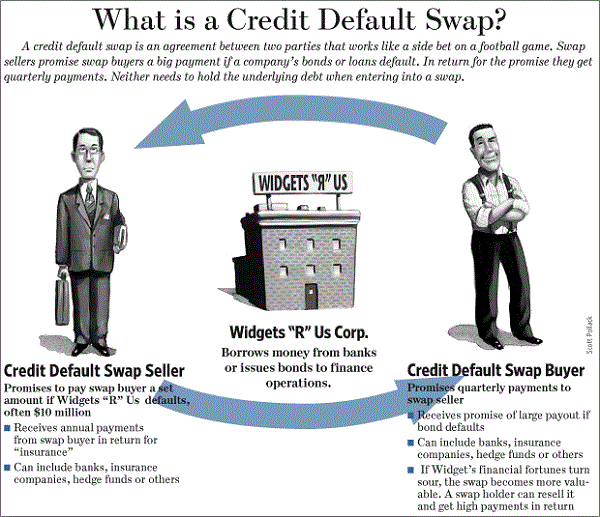 So the cost of the insurance is one thing and is determined by a market process, which no doubt will become clearer in time. And regulated, because there is nothing wrong with the concept, perhaps the fact that you own fire insurance on your neighbour's house might make you hope that it burns down. That issue still sticks in my throat. Surely you should only be able to buy insurance on something that you own? That is my point.
This next graph, courtesy of Bloomberg is designed to show you one thing, and one thing only, that the Credit Default Swap market is so very new. Check out the cost of insuring sovereign debt of the peripheral European economies, how it only takes to trading regularly when the Lehman induced crisis of 2008 (there is a better name, if not too long) grips markets.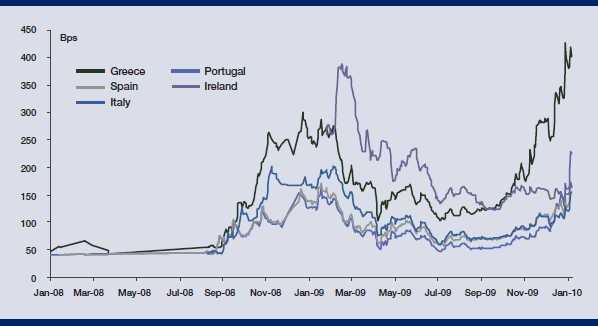 So in truth, this market for sovereign CDS's is only a little over two years old. Judging from this graph. But where are we today? Portuguese CDS's are 100 basis points higher than three weeks ago. And also 100 basis points more than in early May. So basically, with the Portuguese CDS's trading at 545 basis points, what that means is that the cost of insurance on your ten million Euro investment in Portuguese bonds would be 545,000 Euros every year that you hold them.
And the Portuguese ten year bond yields 7.03 percent. Back in March 2009 when everyone actually WANTED government debt, the yield was 3.7 percent. OUCH!!!! In August 2006, when everything was safe, the 10 yr yielded 3.35 percent. Even in August the 10 yr was yielding a little over five percent. These are problems, not without solutions, but you get the sense that the EU will have to take drastic action. Or, you could just trust the German government and buy the ten year bund which currently yields 2.76 percent. And what is the cost of insuring against a German Default? I don't know, I couldn't find out.
This is not particularly insightful, but I like the guy, Mohamed "the moustache" El-Erian Ireland Rescue Is Not a Game Changer. But we were discussing here in the office this morning. The term bailout implies that the country is bankrupt. All that has happened here is that the country is getting a credit line at a cheaper rate than in the open market. 5.8 percent versus 9 percent. And once the faith is back, then the country will be able to raise money in the open market at cheaper rates.
Paul scribbled (in his very neat way) on a piece of paper of all the crises over the last year or so: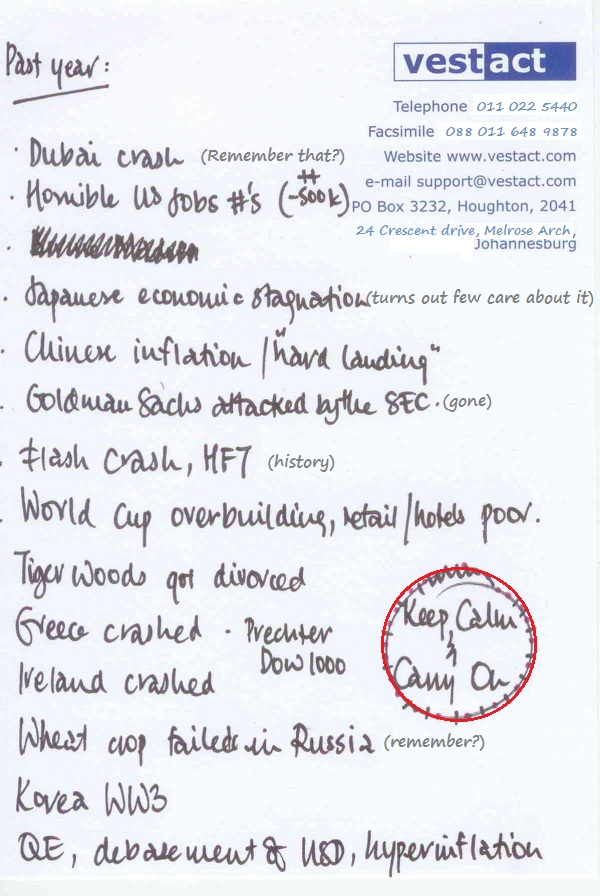 Exactly. Keep calm and carry on.
New York, New York. Stocks staged an amazing late rally to close comfortably off their worst point of the day. Which was just after the open at 10 am and again at midday. All this after folks were still digesting the news that the South Koreans and Americans were pressing ahead with this boat showing. Errr… showing boats. Errr… military exercise. And the Irish had the water expunged, you know a bailout from the EU.
I am still struggling with the terms, I must be honest, it seems if you were worse off then you got a better deal. The fellows over at the Business Insider put together a slideshow titled: These Are The 20 Banks Most Exposed To The European Sovereign Debt Crisis. The last one (or worst off), I know I shouldn't laugh, but I could not help myself – The National Bank of Greece.
Session end and off the worst, the Dow closed at 11052, down 39 points. The nerds of NASDAQ were lower by 9.3 points to 2525, with the broader market S&P 500 down by 1.6 points to 1187.
Commodities corner Dr. Copper is trading at 377 US cents per pound, the gold price is better at 1372 Dollars per fine ounce, as is the platinum price better, last at 1646 Dollars per fine ounce. The oil price is a little lower at 85.58 Dollars per barrel. The Rand is weaker at 7.12 to the US Dollar, but has gained to the Euro, 9.28 currently. 11.07 to the Pound Sterling.
Oh, and if you needed this, keep calm and carry on.
Sasha Naryshkine
Email me
Follow me on Twitter
011 022 5440