December 3, 2010 in Uncategorized
Jozi, Jozi. A power day masked some heavy intra-day ups and downs, but always on the side of the bulls. There was the ECB announcement which is a little spicier this time around for the simple reason that the bond vigilantes have the periphery economies of the Euro zone in their sights. There was an expectation of sorts that perhaps a bazooka ala a Ben Bernanke program once upon a time would be announced, but to no avail, there was nothing of that size and scale. I had a long conversation with a client yesterday and he pointed out the obvious, a weak Euro is not necessarily bad for German exports, which are rocking. So whilst the other marginal Euro countries fumble around, Germany have to provide cash for the stragglers. Winning on the one score, big time, but a bitter pill to swallow, having to send money to Greece and now Ireland, soon to Portugal.
Meanwhile, the Spanish Prime minister, Jose Luis Rodriguez Zapatero, had the evening before been interviewed by one of the most famous business anchors of all time, CNBC's Maria Bartiromo, and what he said did a lot to calm nerves.
Bartiromo asked him: "Can you categorically say that the banking system in Spain is healthy and well-capitalized?" and his answer, or part of his answer was: "Definitely. It's not only healthy and well-capitalized, it's done its homework, it's still doing its homework; and, on top of that, it will be one of the most attractive financial systems for investment. It will be one of the most efficient and one of the more profitable systems. We were two or three years back, and we still have that core strength and that ability to reform as we have to reform."
And then the money question from Bartiromo: "So Nomura, the Japanese investment bank, says Spanish banks need a capital injection of anywhere between 40 and 80 euros (she means billion). That represents 4 to 8 percent of the Spanish GDP. Do you agree with that assessment?" And his answer was spot on, exactly what folks wanted to hear: "No, we don't agree with that. We don't agree with that assessment because Spain's major banks are really considered to be amongst the best in Europe. They've–they came out of those stress test with magnificent results. They have a very sound capital structure, major presence, a major footprint in the world today."
And with that, global markets continued along their merry way, cheering the manufacturing data from the prior session. And the bond yields in Europe crept lower as the ECB later in the day remained active in markets and said that they would extend their bond purchase program. Just for the record, the fellows in Spain are privatising this and that, stepping away from the economy, not getting more involved. So there. Session here in Jozi the all share index had closed up shop at 31145, up 357 points on the session. Banks and financials both closed in the red, an iffy RECEIVED trading statement from Standard Bank did very little for their shareprice, down one and a half percent on the day versus a market up by over a percent.
What did that Standard Bank trading statement say to send the bulls in the opposite direction? This is what they said: "Shareholders are advised that Standard Bank Group's earnings per share, headline earnings per share (HEPS) and diluted HEPS are expected to be between 3% and 12% lower than the same earnings figures for the year ended 31 December 2009….."
For the full year 2009, "normalised EPS was 757 cents per share, down 20% on 2008″. So, in the middle of the range down 7 percent, we are looking at a little more than 7 Rands a share worth of earnings. And with two and a half times dividend cover, shareholders would have to expect less than 300 cents worth of dividends. So, next question? Do you pay 101 ZAR for a bank that is on a historic (well nearly) 15 times earnings multiple and less than three percent yield? Of this size and scale?
Perhaps the only bank with a reality check of sorts locally, or being too aggressive on the cost cutting exercise? I would like to think that Standard Bank of the major retail banks is always slightly ahead of the curve. Which begs the question, what are the other banks thinking right now? But I guess the next big question to ask, in light of shaky banking systems around the world are seeing banking assets sought elsewhere in the world. And elsewhere in the world means here. So, a three percent yield from a stable emerging market bank like Standard Bank, with good prospects, if not for the moment, is still compelling. Perhaps a market underperform for the next 12 months, but after that……
MTN are rumoured to be one of the bidders for a stake in Zain Saudi, which the Kuwaiti parent, Zain is looking to sell. It is more than a little cloudy at this time, I must be honest. Reuters reports: "Kuwaiti telecoms carrier Zain has appointed UBS to sell its Zain Saudi unit, sources said on Thursday. Zain selling its Saudi unit is a regulatory condition for Abu Dhabi group Etisalat's $12 billion bid for a controlling stake in Zain. Etisalat and Zain both have units in Saudi Arabia and compete for market share there. Bahrain Telecommunications, or Batelco, and South African group MTN were in talks to buy Zain's Saudi unit, the people said. It was unclear whether other parties were also involved."
With your hands, gesture Zain, Etisalat, MTN and twist them around, opposite each other. Zain Saudi. Well, let us check out Zain Saudi as a whole, last results 20 October, third quarter numbers. Making a loss, seemingly getting a bit better. How does this sound to you?

Not good, but improving. Very slowly. The company is undertaking a right issue in order to keep the wolves from the door, large shareholders have also advanced the company some serious money. Including the Kingdom of Saudi Arabia's Mobile Telecommunications company. So read into that, the royal family. I can imagine that the Saudi Royal Family are not that thrilled with the Kuwaiti's. In the form of Zain. But there are also conditions, as you can see in the form of Etisalat wanting to buy the parent company. Complicated, time will tell us something.
BHP Billiton and Rio Tinto are set to stuff the Western Australian treasury coffers with 350 million Aussie Dollars each, in return for mine restrictions being lifted. It seems to me for the sharing of infrastructure by both the iron ore mining giants in the Pilbara. Rail and electricity infrastructure will be built and shared, so obviously competitions funnies wavered by WA, Perth central. Arrr, good on you mate. 'Bout that Tassie Ponting thou'……
African Bank with quite a wow trading statement this morning. Even then though, they are pretty cautious. Check it out chaps (and chappesses): "ABIL indicated in its annual results announcement for the twelve months to September 2010 that it had achieved a significant increase in credit sales in the second half of the 2010 financial year, which represented growth of 33% over the prior year`s comparable period."
From the write up that I did a couple of weeks ago:
There is a lot of anecdotal evidence that "things" are improving. There is even visual evidence, I have circled the September numbers on the strong lift in sales slide to make the point: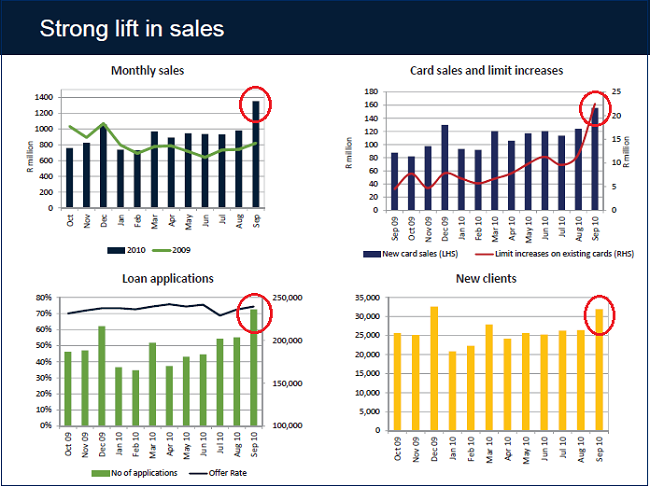 Check that sales mix, September was a good month. It seems that things are getting a whole lot better, judging from this "While some seasonal growth is to be expected over the traditional peak trading period, group credit sales for October 2010 and November 2010 increased by some 60% over the prior year's comparable period. The growth in credit sales has been driven largely by a significant increase in application volumes, including strong growth in new clients." The stock is up more than three and a half percent and is trading at and near all time highs. Granted that 37 was first crested in November 2007.
New York, New York. Retailers were rocking after same store sales looked way better. And the whole "euro" thing seems to have settled a little. Pending home sales were way better than anticipated, but weekly jobless claims disappointed a little, even if last week's read was way better than in the last 36 months or so. Session end the Dow closed 106 points better to 11362, the nerds of NASDAQ better by nearly 30 points to 2579 and the broader market S&P 500 up 15 and a half to 1221.
The Rand is on a tear as the risk is definitely back on. A whole lot will depend on non-farm payrolls today to keep up the momentum. And that number, non-farm payrolls, is expected to be around 145 thousand which is more or less at the same level as last month. The Rand last traded at 9.16 to the Euro, 10.83 to the Pound Sterling and 6.91 to the US Dollar. Dr. Copper at 3.99 Dollars per pound. The oil price is nearing a year high, 88.13 Dollars per barrel. The gold price is better at 1392 Dollars per fine ounce. The platinum price is also better at 1723 Dollars per fine ounce.
Wait for non-farm payrolls. If it is a "beat" watch another couple of rungs up the ladder. I get the sense drilling through the numbers there could be some pleasant surprises. If not, then can you believe that folks will start to ask questions about the recovery. For the record I think that the number could surprise……I hope so. Because we are long markets. And continue to stay that way.
Sasha Naryshkine
Email me
Follow me on Twitter
011 022 5440