March 31, 2011 in Uncategorized
Jozi, Jozi. Whoa!!! Stand back from the screens. The thing that amazes me is that the Libyan "situation" is worsening and the Japanese "situation" is hardly better either. But market participants have brushed that aside and in their stride focused on the things that matter for well, errr…. equity markets, namely economic releases and company earnings. And yesterday there was a preview to the US employment data on Friday. The customary US guesstimate ADP report was released yesterday afternoon and was bang in line with the estimates. And it was a great read, the US economy reportedly added 201 thousand private sector jobs for the month of March. Cool. And of course the US labour department will release those numbers an hour before the New York markets open, two thirty our time. Look out for that, the biggest economic release of the month.
So the buyers were back in force, with industrials leading the charge, that index up over two percent. Resources actually lagged the broader index, could you believe, in part hamstrung by the firming currency. The stronger currency attributed to the Reserve Bank governor, who had the night before in a speech in Soweto to the business community, said that inflation was going to be kept in check. In other words, if inflation rears its ugly head, it will be squashed. Hung drawn and quartered. So I guess that is the kind of news that would help anyone.
Plus, on the radar screens yesterday were all the companies with year ends in December having to get their results in before the close of business today. That three month reporting thing. It still amazes me that US companies can release quarterly results so soon. Like clockwork. And I wonder what quarterly reporting would do for our companies? Any FD's out there with an opinion on that?
Back to our markets, the surge was so strong yesterday that we saw the Jozi all share index squeak back into the green (black) for the year, with the overall level now at 32275 and the market up nearly half a percent. Over in the US it is a different story entirely, with the best first quarter since 1998, and we are not finished as of yet. The S&P 500 is up over 6 percent year to date. Which confirms what a lot of people were thinking already you see, that developed markets valuations, since the beginning of the year, were a little more attractive than most people thought/think. And, more importantly, underscores for me that the recovery is still intact.
Pick 'n Pay have indicated that the going is really tough out there. They have released a trading statement this morning. And it looks a little grubby. More than grubby. Here goes, read it for yourself and decide: "HEPS and diluted HEPS from continuing operations, between -10% and -25%. Total HEPS and total diluted HEPS (including Score and Franklins), between -15% and -30%. EPS and diluted EPS from continuing operations as well as total EPS and total diluted EPS, all of which include the prior year profit on the sale of properties, between -25% and -40%."
There is basically two classes of shares with the family still controlling the business. And that my friends, is something that I think might be a problem of sorts. Don't get me wrong, I think that Raymond Ackerman is right up there with the best businessfolk that South Africa have ever produced. But it is not just me that thinks that they have fallen behind over the last decade. My old market historian (I miss our conversations with him) always used to think that was the case. Slippage, not in a bad way, but when you have been at it for decades the time in gets to be more of a slog, but I speak under an enormous correction. And potential beating of my bottom but people that regard Mr. Ackerman as one of the best, have all the right to be outraged.
And the reasons for lower earnings, include "The adverse effect of a Pick n Pay national labour strike during our peak trading period and it's after effects;" AND "Cost inflation exceeding internal selling price inflation; and Our continued investment in gross margin." Margins are getting squeezed and in retail that is just gross. Gross as in not good. But I hear you say (and you are right) better late than never, exploring new territories and repositioning at both the top and bottom of the market. Yes, and time will tell whether this is the right move and whether or not they were late and have to play catch up. Which is good for the South African consumer.
Byron's beats.
Yesterday an interesting small cap construction company called RBA released its annual results. If you have not heard of them this is how they describe themselves. What better way than a direct quote straight from the SENS announcement. "Established in 1997, RBA is a supplier of affordable homes in Gauteng, Polokwane and Kwa-Zulu Natal. The business focuses on 3 distinct areas: Supplier of traditional bank funded homes, Building of a rental portfolio and providing housing to mining groups. Our business model encompasses the complete property development process viz. the acquisition of land, town planning, project management of services installation, marketing, sale/rental and construction of quality affordable homes"

So now that you know exactly what they do let's delve into their numbers taking note that they fall under the private building sector. The sector hardest hit within the construction sphere which we know is struggling big time.

The Score Card. Firstly on a positive note, the company managed to increase revenue by 29% mainly due to a significant recovery in the second half of the year. That's a good sign. However the group did make an overall loss of 4.89c a share which equates to R11.4mil. Yes it's a tiny company with a market cap of just over R50mil. That said, they have decreased their losses significantly after getting hit hard in 2009 losing R30,7mil. Obviously you cannot calculate a PE ratio when a company makes a loss but the fact that the company trades at 15c means people are expecting the company to turn out some profits in the future.

Investment case against RBA. The company is tiny and not at all liquid. If you buy this stock you are in it for the long haul because you won't be able to get the shares away in a hurry. It also falls under the hardest hit sector of a struggling industry so it is very risky. Often the smaller companies fizzle away under such conditions because they struggle to get funding. That seems their biggest challenge, getting funding from the banks who are still very cautious about lending, especially in the housing and property industry. Whether they survive or not, that is the risk.

Investment case for RBA. We know the management team pretty well and they are a motivated bunch of guys. They have to be, they have big interests in the company, one of the benefits of a small company where management actually started it. Although they have struggled I think the sector they find themselves in has huge potential as more and more South Africans get out of the poverty cycle and gain the capacity to raise money from the banks. I guess it is one of the small benefits of the recent overboard wage hikes in the public and private sector. Interest rates are at 30 year lows and the market is in a recovery. This shows in their results after a large improvement in the second half of 2010.

Conclusion. It's risky and speculative as most penny stocks are. One more bad run and they could disappear. Hence as long term investors who stick to blue chips I wouldn't buy the stock. However if you feel you want a more risky asset which could bring back some fantastic returns it's one of the small caps I would invest in. They coming off a low base and if they can manage to secure decent funding from the banks and the banks start lending to the consumers they could be perfectly positioned for the South African growth story.
New York, New York. Everything was pretty strong, across the board buying. And explanation lies behind MTN's heroic moves as of late, the telecom sector in the US was the outperformer again yesterday and for the week is up 5 percent. That explains a lot to me. A bit of activity in the sector that we can't talk about. You know, the people who make little things to make people live longer, tablets and pills. Doh, just got spam blocked. If you are confused, or do not know what I am talking about, then email me directly. But I am sure you know. All rather cryptic.
Volumes are low though, the suggestions are that people are staying out of the market until tomorrows Non-farm payroll read. But that ADP read did a lot for confidence. Check out the full story here —> The ADP National Employment Report. The full report, over here —> March 2011 ADP National Employment Report has the money line: "This month's ADP National Employment Report removes any remaining doubt that private nonfarm payroll employment accelerated heading into 2011."
I was so tired of reading about a jobless recovery and now that I have forgotten when last someone spoken about it, that I don't pay attention when people talk about a recovery that does not include housing. Because it will come. Anxious? No. What me worry? Nope. I tweeted this morning that I know my shapes and this looks like a V. Do you agree, took a snapshot, here goes: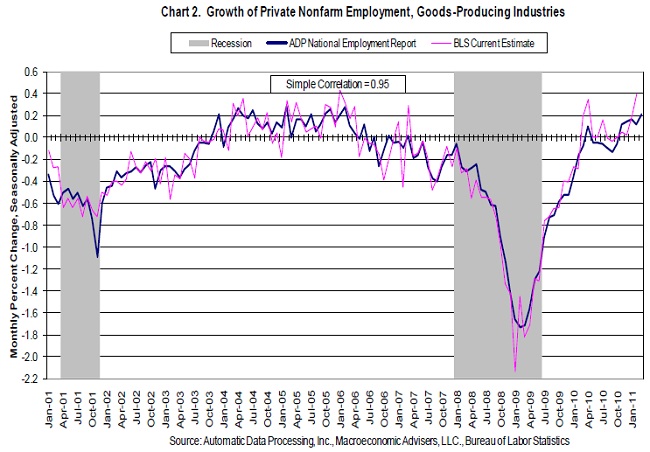 Looks like a V, smells like a V, you know what, it is a V. So all of those of you talking double dip, check out for the ice cream van and the rubbish tune that follows it around. Good luck with that.
Commodities and currencies corner Dr. Copper last traded at 424 US cents per pound, the gold price just got a serious jolt, is now up at 1432 Dollars per fine ounce and the platinum price also ticked up a bit, last at 1776 Dollars per fine ounce. The oil price is higher, WTI is at 105.39 Dollars per barrel. And Brent is at 115.96 Dollars a barrel. Brent is climbing. The rand is stronger at 6.78 to the US Dollar, 10.93 to the Pound Sterling and 9.65 to the Euro. We are slightly lower here on the last day of the quarter. All about that jobs read tomorrow.
Sasha Naryshkine and Byron Lotter
Email us
Follow Sasha on Twitter, and Follow Byron
011 022 5440