April 28, 2011 in Uncategorized
Jozi, Jozi. Another holiday, another day off for markets and folks taking a long holiday extended here. Again. I can't complain, I just visited the family in the Klein Karoo, when we left yesterday morning it was cold. Very cold. There was a light sprinkling of snow on the mountains on the West side of Worcester, to dash any hopes of a longer summer. It was pretty looking and cold. Tuesday was a slow day, markets closed nearly flat, a few points better on the Jozi all share to close up shop at 32668, up 9 points. Dragged lower by the resources sector which was down 0.8 percent, the local currency continued to power ahead, you will see why a little later down the message, as we chat about the Dollar Index.
I remember writing this a while back, on public holidays, last August: "There are seven public holidays in China. Here, like in Greece actually, there are 12 public holidays. We lose a whole working week to China as a result of observing all these public holidays. In the US there are ten. In England there are only 8 public holidays this year. In Portugal there are 14. Are you starting to see some sort of pattern here? In Vietnam there are only 8. Now you have a clear picture".
We lose a working week to the Chinese? When we cannot even compete at a productivity level (let us not kid ourselves) we take an extra week off. I do not mind all the public holidays, but I just wonder about the firm timing. Middle of the week. In the US the holidays that are set by the state fall on Mondays mostly. So, take the holidays that are so near and dear to us and stick em all on a Friday or Monday. Period. And start voting on a weekend. Saturday and Sunday.
British American Tobacco released a quarterly trading update this morning. Here goes: "Good organic revenue growth of 5 per cent at constant rates of exchange. Volumes from subsidiaries decreased by 2.4 per cent to 164 billion, organic volumes reduced by 1.8 per cent. Global Drive Brands volume grew by 9 per cent." All rather complicated for me, if not for the watchers of the company. All I know is that volumes are falling, if not revenues, which is good on the part of the company.
"Industry volume declined significantly in markets such as Spain, Mexico, Australia and Vietnam.". At the same time however, there were market share gains versus their competitors. Smoking bans in public places and higher taxation has seen volumes decline in these places, but some of their other brands have gained strongly in places like Russia, Japan (earthquake and tsunami aside), South Korea, the Ukraine and Romania. Where smoking of the Kent brand has powered ahead. Pall Mall rocked in Pakistan, Romania (again) and Turkey. Lucky Strike found the going opposite as volumes declined in Spain mostly.
Like it or not, the industry creates jobs. 460 thousand tonnes of tobacco was bought by BATS last year. China, India and Brazil all have many numbers of households dependant on Tobacco production. According to Wiki global production has gone from 4.2 million tons in 1971 to 7.1 million tons last year. Check out the Growing Tobacco section of the WHO tobacco atlas.
That tells you more or less the size of BATS I guess. Last year BATS sold 708 billion cigarette sticks across their territories. The number globally is around 5.5 trillion, of which one third are consumed by the Chinese, which is a tough old market to crack from the outside. So they are a leader, if not hugely dominant. It is better to be number two in market cap, than number five.
There are environmental issues with all industries, so whilst I care a lot about the leaching of nutrients by tobacco plants, and the heavy usage of insecticides, as well as deforestation (wood used in the curing process), I am mindful that everyone has their problems. Health issues aside, although being a low yield crop, it is relatively easy to grow. We still maintain our avoid on the stock and company. Product growth will remain stodgy. Taxes will increase. There will be more folks looking to limit their product sales, both because of health and moral issues. I can ignore the juicy dividend yield and the supposed downturn friendly nature. In truth I would much rather own Coca-Cola and do so for clients.
Around the world. Whilst the BoJ leaves rates at next to nothing again, they are not getting too excited about pouring any more stimulus into the markets. And rather taking a wait and see approach as to how their initial moves post the quake and tsunami had on the Japanese economy as a whole. And to be perfectly honest, the markets do not seem to care that Japanese debt was placed on negative watch by Standard & Poor's yesterday.
Everything slower and lower, from vehicle production to retail sales internally, why should we be surprised. Perhaps it is just a way for the ratings agency to quietly start lowering their debt ratings of Japanese government bonds over time. Perhaps. I do not care, check it out: Japan Rating Outlook Lowered to Negative by S&P on Quake Rebuilding Costs.
New York, New York. There were many distractions in the background, perhaps the most important one politically was the Barrack Obama full birth certificate, which shows clearly that he was born in Hawaii and not Kenya, or East Africa. Or wherever it seems that the nut jobs out there think. Perhaps now the Donald can reveal which glue he uses to keep "that thing" on his head attached. Sis, that is rude and unfair.
And I am not too sure why Donald Trump is referred to as a billionaire or property Tycoon, more apt would be the description that Heidi Klum or Jeff Probst, reality TV host. As far as I understand it, that is where he makes his money. But hey, many people actually think he is worth more than Tim O'Brien who wrote that book about Donald Trump. Truth is, anyone who votes for the Donald as president would be doing Democrats a favour, they would be far right wingers.
The first ever news conference was held yesterday by Fed chair Ben Bernanke. Of this sort, along the Trichet lines when journalists and the like ask clever questions. Not always. What did Bernanke say to make markets fly. In fact the last time that the NASDAQ 100 was at these levels, Bloomberg points out that Friends was the top TV show. Brad and Jen were together and Tom and Nicole had just split. Feb 2001. George Bush had been in office for just over two weeks. Borge W broke tech. Come on!!
There was the official Press Release if you want to see what the Fed said and then the Table projections for the US economy here —> Economic Projections of Federal Reserve Board Members and Federal Reserve Bank Presidents, April 2011. I am staying with my line, the Fed are on top of their game. And know what they are doing. And all the arm chair Fed critics can go and jump in the lake. With their own assessments of QE2.
Gold hits a record high will be the headlines again. When measured in the global currency, US Dollars. At the same time the Dollar index hits a nearly all time low. Yech. What is the Dollar Index? Here goes, this is the basket make up, from the contributors at Wiki:
Euro (EUR), 57.6 percent weight
Pound sterling (GBP), 11.9 percent weight
Canadian dollar (CAD), 9.1 percent weight
Swedish krona (SEK), 4.2 percent weight and
Swiss franc (CHF) 3.6 percent weight.
Japanese Yen (JPY) 13.6 percent weight.
Started in 1973, the all time high was the mid eighties, Feb 1985 where it topped out above 148, or 164, depends where you look. I think in part as you can see from the basket above, that has changed over time. There used to be a Deutsche Mark and a French Franc. The Dutch Guilder and the Spanish Peseta. Those would have been in the Basket, but now the Euro dominates.
The all time low for the Dollar index was back in March 2008, where it got to 70.69. Currently we are at 72.94. The last year has been bad for the Dollar. Check out the Bloomberg public page for the: DOLLAR INDEX SPOT price. Check out a long term graph that I found via TradingEconomics.com: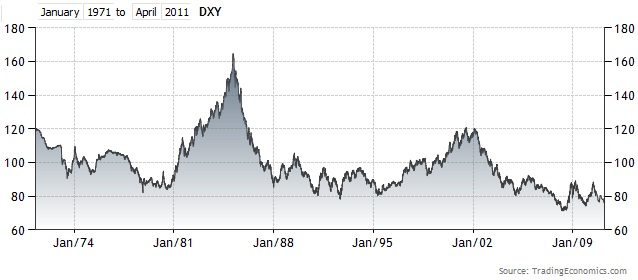 So whilst the Dollar has been thumped over the last six months, the long term graph hardly is any cause for concern. The Dollar gets strong and then weak, weak and then strong. So as the Gold price (the anti Dollar) hits an all time high this morning, but has been beaten by the S&P 500 over six months. Plus it did not pay you a dividend, gold that is. I know which one I would rather hold. The gold price in US Dollars last traded at 1529 Dollars per fine ounce.
The Rand Gold price is as close to 9855 ZAR per ounce, that is where the GLD ticker traded last. Fact is, the GLD ticker has trounced the market over five years, up 152 percent versus the overall market 53 percent. Ex dividends, that would make up some difference. BHP Billiton is up 117 percent ex dividends over five years. Since early 2006 there is little to split the two, I would say that the BHP Billiton dividend would put them ahead over that time. Over the last six months BHP Billiton has trounced GLD. Again, I know which one I would rather own.
The copper price is 427 US cents per pound, the platinum price is 1825 Dollars per fine ounce. The oil price is slightly off the best levels at 112.54 Dollars a barrel. On NYMEX WTI, which is closing the gap on Brent, which is last at 125 Dollars per barrel.
The Rand is strong, but off the best levels, 6.62 to the US Dollar, 11.03 to the Pound Sterling and 9.80 to the Euro. We started better here, but have gone lower over the course of the day. Have fun in two of three consecutive short weeks.
Sasha Naryshkine
Email us
Follow Sasha on Twitter.
011 022 5440