October 28, 2011 in Uncategorized
Whoa! There was an enormous amount going on, both on and off the field as the sports folks would say. The biggest and most well received news of course was the news that Europe had been saved. Or has it? A whole lot of reaction to the solution, we will have a look at some different viewpoints. There were subscriber numbers released from the MTN Group, which at first glance were iffy, but then you must take a harder look and then put it into perspective. And then to top off a good day and change it to great, there was a US GDP first take on the 3rd quarter this year that met expectations -> Real GDP Recovers to Above Its Pre-Recession Level, but more importantly grew at 2.5 percent. Nope, sorry "the Nouriel", doesn't even feel like a double dip like YOU SAID IT WOULD!! OK, I am angry that so many people think that big talker (who is exceptionally talented and super smart) "the Nouriel" somehow holds the key to predicting the future.
Jozi, Jozi. 26o 12′ 16″ S, 28o 2′ 44″ E. An explosion of bulls and perhaps a whole lot of bears being squeezed too saw markets rocket higher here in Jozi on Thursday. In fact the US markets have seen their major indices for the month of October (so far) up the most since 1974. Two trading sessions left for that record to be maintained, US futures are a little lower this morning. We managed to add 715 points to end at 32452 on the Jozi all share, that was a gain of 2 and a quarter percent. The strongest movers out of a wild running pack were the resource stocks, which rallied as a whole over three and three quarters of a percent. Platinum stocks added four and a quarter of a percent. Banks "only" added a little over four fifths of a percent. The currency did weigh on some of the dual listed stocks, and perhaps some of the stocks that folks might say are defensive. Like I said, I am not too sure what that means.
One of our longest held companies (from the start) reported subscriber numbers yesterday. We are of course taking about MTN. Here is the copy paste from the release:
"MTN Group recorded 158 590 000 subscribers at 30 September 2011. This is a 4.1% increase for the quarter from 152 272 000 subscribers recorded at 30 June 2011. During the quarter, MTN has successfully maintained market share in most of its markets. Although social unrest remained a factor in some countries, Syria, Yemen and Cote d'Ivoire increased net connections during the quarter."
This is when measured against the last quarter, 4.1 percent up, or 6.3 million subscribers. Do you even remember how many subscribers they had this time in 2010? 2009? 2008? No? OK, so I checked it out. Here goes, same time 2010 MTN recorded a 4 percent increase in their subscriber base from 129.2 million subscribers to 134.4 million, an increase of 5.2 million subscribers. In 2009, on nearly the same day, the subscriber base grew five percent on the prior quarter from 103.1 million to 108.5 million folks, 5.4 million folks. In 2008 at the same point (Halloween in fact) the subscriber base grew 9 percent from 74 million to 80.7 million, 6.7 million new subscribers in the quarter.
So it seems to me that they are adding more or less the same number of subscribers a quarter (for this quarter) for the last four years. Ex growth? Hmmm… no, I would not say so at all. They have more than doubled their subscriber base over the last four years. Quite unlikely that it can happen again, but they are not ex growth. Here is the full RELEASE OF SUBSCRIBER NUMBERS FOR THE QUARTER ENDED 30 September 2011. I have taken the top three subscriber bases for MTN, Nigeria, South Africa and Iran. I was pretty surprised with the South Africa increase and the jump to above 20 million subscribers.

The next "thing" to look for is the average revenue per user number or ARPU, if you like acronyms. In South Africa over the quarter, they were flat. I have always maintained that the rest of Africa ARPU's are low, but that would grow off a very low base. Data is the key to me for the future of almost all mobile businesses. And I think more so in an African context, where the fixed lines are far and few between. And I think I can say that they are flattening out and not declining any more. That is a pretty dangerous assumption, I know, great examples of falling ARPU's because of pricing wars exist in India and East Africa, and that is recent. I am pleased with these numbers. I am pleased that data still has a long way to go in an African and local context. We continue to accumulate this stock.
Byron's beats has a look at one of the major producers of platinum on the planet, Aquarius Platinum. Who have had problems lately. The beats that are back make me really happy.
More results coming at us, this time from the fourth largest platinum producer in the world, Aquarius platinum. That makes them sound big but in truth they are only an R11bn company. Sasha is right when he says that in truth there are really only two platinum miners out there to take note of. That is Impala and Anglo Plats. The capital expenditure to sink a mine with the hope that the grades are as good as the geologists expect are extremely high and for mid tier miners, it is very risky because you have to allocate such a large proportion of your capital to one project.

Unfortunately this seems to be the case with Aquarius. Year on year total production was down 14%. This was as a result of mining contractor underperformance, failure to achieve budgets and unit cost targets, failure to maintain safety standards and lastly industrial actions from labour. Wow that is a lot of excuses. Some of them within the control of management, some of them not. In terms of their financial performance, earnings were up 24% compared to the comparable quarter to $34.9m because of the weaker rand and strong PGM prices. However due to forex adjustments they actually made a $91.8m loss. I would assume that their reserves were held in South Africa before the Rand weekend so much.

After scouring through the results and the production report the biggest stand out for me was the success of their joint venture with Impala in Zimbabwe at the Mimosa mine. This mine was the only one out of their 7 mines which actually met targets. It now constitutes 22% of platinum mined by the company. It is also had the lowest costs out of all the other mines. Is it coincidence that this successful mine is the only one outside of SA? I think not.

As a devout patriot it kills me to keep bringing this up but South Africa is just not a very friendly place to mine at the moment. Pravin Gordhan admitted so in his budget speech the other day. After he mentioned this I asked Paul what exactly we needed to do to make us a better destination to mine. We already know that increasing electricity tariffs are uncontrollable. Without those we will have no electricity at all as Eskom struggles to supply historically cheap electricity. The crux of his answer came down to less intervention. Just let the miners do their thing. Less strict labour laws, weaken the unions, more clarification on mineral rights and very importantly transport. Either privatise rail or get Transnet into gear. I prefer the former.

I understand that mines are profit driven organisations that need regulation otherwise they will exploit the environment and the people in the vicinity. But you have to find a balance. Look at Australia, the only developed nation not to touch a recession this decade and that is because of their mining sector.
Has Europe really been saved? Well, the jury is still out. Some say yes, this is awesome and others are completely sceptical. So the magic that the Europeans managed to sprinkle across the markets is either seen as very good, or there is not enough detail seen from some quarters. I really like the FT Blog view from yesterday -> So. Many. Bailout questions. Phew. So many questions for sure. DO NOT WORRY IF YOU ARE CONFUSED!!! You are not alone, and in fact many of the smart folks sticking out notes are having conflicting views. Which is sometimes refreshing to see!!
There is of course news around that the Chinese central investment vehicle, who is looking to diversify their bond holdings, could be a buyer of European bonds through the EFSF. Just have a look at this picture to see what could be done with the EFSF. It came on the Twitter thingie -> EFSF leverage via Credit Enhancing bond insurance. But here is the picture from that link, thanks so much RBC Capital markets for doing that flow chart for everyone.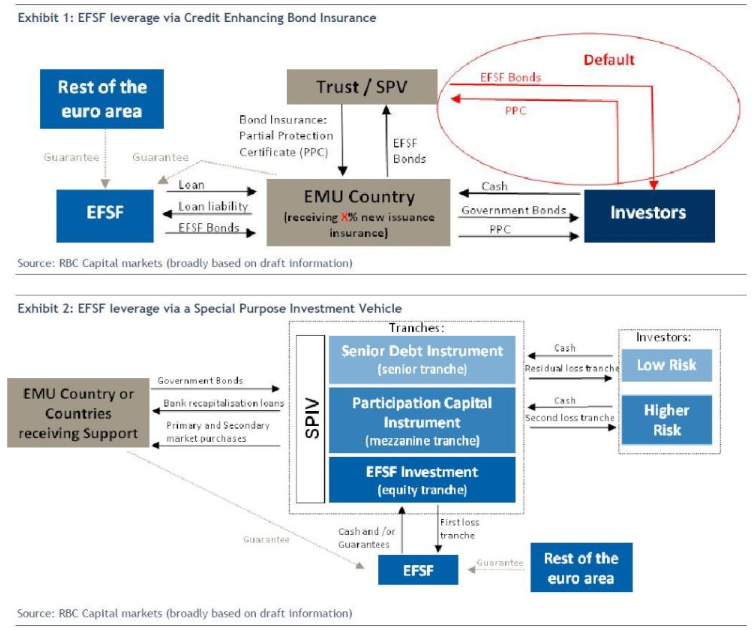 Everyone seems to be talking about option two. Perhaps the EU put out some sort of statement and then waited to see what the market thinks and then take that advice. I am of course kidding about that last statement. We are of course expecting some sort of detail in the next month. But interesting, don't you think? I will tell you what The Economist thinks, they are not convinced -> Europe's rescue plan. Poor politicians, they are not there to solve these crises, they surround themselves with people to solve these issues. Wishing somehow for a quieter period in history. I can't think of one though!
This is not designed to be a personal attack on "the Nouriel". OK, perhaps it is. I have heard from people who have attended his talks that he has a real impact and talks with an enormous amount of conviction about events. But it turns out that many of his predictions have been wrong. This is not just me having a go at him, check this piece out -> Who Predicted the Financial Crisis. If you cannot click on the link I have (selectively) taken a table snapshot of his equity market predictions: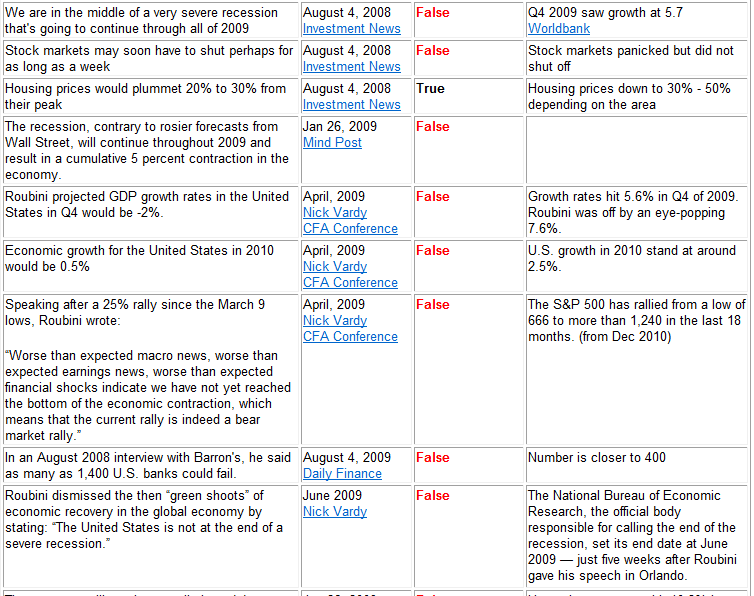 So the man who predicted the financial crisis (give it to him, even thought the article does not) has failed to get too much right thereafter. My question is a more pointed one though. Surely the people who monetized the financial crisis (after all we are in the business of money) are the predictors. And as such I always fall back to that Michael Lewis book, "The Big Short", and the different strategies that made money out of the disaster. Guys like John Paulson, who has had a very bad time this year, and that has been very well documented. That is unfair, because he "monetized" the crisis by shorting the subprime market, he made many billions of Dollars. Steve Eisman, Michael Burry, these lesser known guys made serious money for themselves and their clients.
Nouriel is trying to sell his loss making business -> Nouriel Roubini's Firm Is Losing Millions And Now He's Trying To Sell It. Would you buy it if you had the money? To own his speaking prowess over the next few years? What happens if things get a whole lot better and he sounds like a stuck record again?
My next and related point comes from two pieces and they were fuelled by what Paul said in that video from yesterday -> Euro summit conclusion. Paul basically said that if you had been sitting out, then you wouldn't have caught this recent rally. And what were you then doing managing money?
So that is the background to introduce you to this Abnormal Returns piece -> Doing yourself a favor by doing less. Now, this Barry (Ritholtz) piece has a little shorter time frame than what we usually suggest, but you get the point. Flipping, flopping, tracking, jobbing in and out has a huge amount of stress when trading, anxiety about being in and holding is also a big factor. But often we refer back to this visual: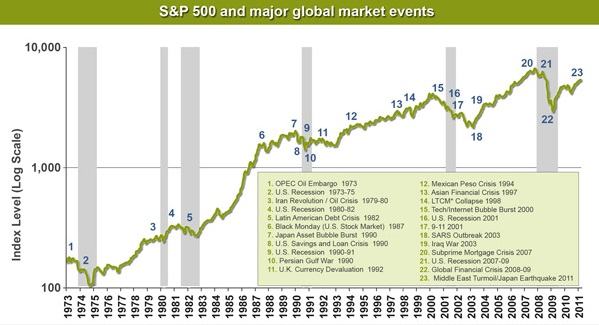 Yes, keep calm and carry on. This year many a trader type has had a bad time, this sort of reporting is definitely not helping -> Can a monkey pick a hedge fund? I am pretty darn sure that all the people managing that money are smarter than monkeys, they probably just have extrapolation disease. Or prone to quarteritis, too much short term guessing. The richest investor is also the most patient, that counts for a lot.
And then lastly, now that everyone has been rubbished, let us see what you guys think about us. Read this one and tell us if we are no different from the Nouriel, I would be curious to know what you think: Portfolio manager performance art.
Commodities and currencies corner. Dr. Copper is last at 364 US cents per pound, the gold price is 1739 Dollars per fine ounce. Both a touch lower. The platinum price is up a touch, 1643 Dollars per fine ounce. The oil price, the only really useful commodity that we consume daily (more on that next week), is last at 92.71 Dollars per barrel. The Rand is steady after having a ripper yesterday, 7.72 to the US Dollar, 12.44 to the Pound Sterling and 10.94 to the Euro. We have started better again here today. I see the headlines already next week, "Market still not seeing clarity on Euro plan" or even better: "Profit taking sees market lower".
Sasha Naryshkine and Byron Lotter
Email us
Follow Sasha and Byron on Twitter
011 022 5440