BHP Billions
February 8, 2012 in Uncategorized
Jozi, Jozi. 26o 12′ 16″ S, 28o 2′ 44″ E. Resource stocks lead us lower on the day, collectively down one and one quarter of a percent at the close. The overall market, the Jozi all share index sank 201 points to close below 34 thousand points at 33974. Banks added nearly half a percent whilst industrials added almost one third of a percent. The gold stocks collectively sank nearly two percent, to be almost flat for the year so far. On Monday at lunchtime I said that we had not owned a gold mining stock since 2004, we sold Harmony Gold. And would you believe, at a price higher than the stock is now. In fact for some clients we sold at the end of 2003, also at a price higher than current levels.
BHP Billiton released their first half numbers this morning, and they were slightly lower than consensus. Expectations were for around 10 billion Dollars worth of profits for the first half, but the company reported 9.94 billion Dollars worth of profits. Which was 5.5 percent lower when compared to the 10.7 billion Dollars reported this time last year. This is only for the first half, 10 billion Dollars (well nearly)? Huge. Revenue was 9.7 percent higher at 37.48 billion Dollars. Basic earnings per share were 186.8 US cents, the dividend was hiked to 55 cents per share. In Rand terms at the current exchange rate, that is 7.57, this translates to 1414 ZAR cents worth of earnings per share and a dividend of 416 ZAR cents per share. Does the stock look cheap then at last evenings close of 259 ZAR? The short answer is yes.
This is quite a nice slide from the presentation, which you can download here -> Interim results Half year ended 31 December 2011. This is from page 13 titled "A uniquely diversified portfolio".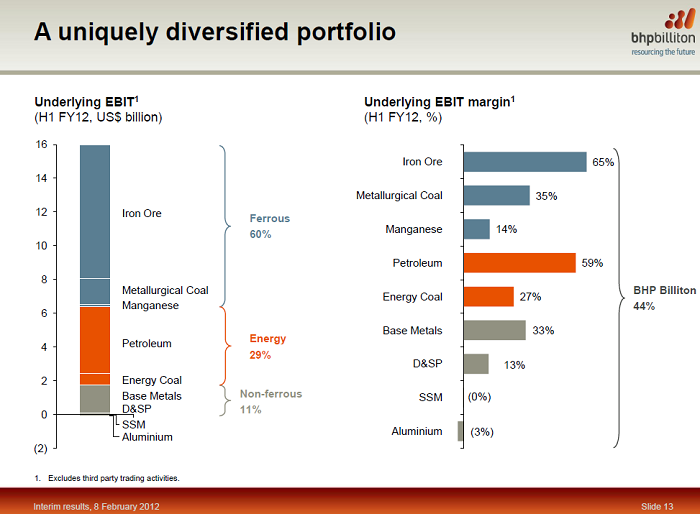 Well, I would not go too far and say that they are uniquely diversified, but I think relative to their competitors, far more diversified. But this is actually what I mean, you can see that they have become less diversified from an earnings point of view from this time last year:

Iron ore EBIT is more than half now (50.36 percent to be exact), last year it was 39.19 percent. But remember that the first half iron ore production put the full year run rate at 178 million tons per annum, but BHP Billiton guided that they would produce around 159 million tons for the full year. Petroleum EBIT has increased to one quarter of the total, whereas last year it was 19.25 percent. Met coal's contribution was basically unchanged at 9.8 percent, this year and the last, all weather problems included. It was base metals that got clobbered, EBIT contribution in this half was 10.46 percent of overall EBIT, but last year it was nearly a quarter. And you can point all of those fingers at one operation, one massive copper mine, Escondida. Revenues halved and EBIT shrank by nearly 70 percent. Seeing as it is their biggest copper mine, I guess then we are not surprised with the big fall off in the contribution from base metals. The fall off was as a result of lower grades and industrial activity.
Before you need to reach for a brown paper bag, in their presentation, BHP Billiton make it clear that this mine should return to old ways: "A substantial increase in copper production at Escondida as operations progress towards higher grade ore in the main pit" is forecast. So things should return to as close as to normal with a mining asset.
Also in the positive column, for the outlook for their heavily hit coal division: "Queensland Coal positioned for strong production growth following the weather related challenges of the last twelve months." Of course, barring any other extraordinary weather events, those cannot be planned for.
And good news for their petroleum assets in the Gulf: "Development drilling at non-operated Gulf of Mexico facilities to deliver an increase in high margin oil production following a recovery from the drilling moratorium." Excellent.
Perhaps most important in their current contributions though, is that their Western Australia Iron Ore operations are expected to increase from a run rate of around 159 million tons per annum to around 200 million tons per annum by 2014. And this is without any additional major project approval. Most of that Capex has been approved already. I guess, as it is with all of their other commodities that they produce, the price is key here.
That is of course key to almost everything here, the prices of the commodities that they produce. Because the prices should be determined by demand. They do list a number of risks and uncertainties: "Influence of China and impact of a slowdown in consumption" and "Increased costs and schedule delays to our development projects."
There is always a detailed outlook segment, which is split up into two different parts, the economic outlook and the commodities outlook. Let us see how their folks see the global economy first: "The first half of the 2012 financial year had its challenges in terms of global economic growth reflecting continued difficulties in Europe and slowing levels of activity in the high growth economies of China and India. Two bright spots were the United States, which saw stronger growth on the back of robust performance in the manufacturing sector, and Japan, which saw a rebound in activity following the impacts of the March 2011 tsunami."
So the developing world demand is slowing a little whilst the developed world, sans Europe is improving. But they do not expect an acceleration on the part of the Americans or the Japanese. None of us do, I guess, but there are signs, particularly in a US context that the economy is improving. And in fact beating low expectations. The long term theme however remains in place, and this is one of the reasons why we have held the stock for a long time: "In the longer term, we remain positive on the outlook for the global economy as the drivers of urbanisation and industrialisation in China, India and other emerging economies are expected to underpin global growth and robust commodities demand."
For a shorter term view, we look towards the commodities outlook. Where I guess they state the obvious: "We expect volatility in commodity markets to persist as the European sovereign debt crisis and general weakness in the manufacturing and construction sectors across key markets are expected to weigh on customer behaviour and sentiment." So, until it is sorted, whatever conclusion you really are expecting, expect the European outlook to be fuzzy at best.
This is the juicy part however: "However, we expect underlying demand growth rates to remain robust, so long as the macroeconomic policy setting of the developing world retains a growth bias. Of the commodities, copper and iron ore are expected to remain supported by their compelling supply-demand fundamentals while the structural shift in Chinese demand for metallurgical coal remains well entrenched. Geopolitical factors are once again likely to influence crude oil pricing. In contrast, the outlook for the aluminium, nickel and manganese alloy industries remains challenging and has led to significant margin compression for most producers, almost irrespective of their position on the various global cost curves."
This seems to have their mix in the sweet spot then, am I right in presuming that? Of course they would say that. I saw on the Twitter thingie that Chinese electricity consumption was lower by 7.5 percent versus the prior January. Some have said Chinese New Year, some have said, no wait, warmer winter than usual. Until of course just a few days ago. Either way this is not a positive.
With the short term outlook a little cloudy, the long term outlook is a little more positive. Even if it is less predictable. The commodity mix is right, even if it is skewed a little this half. We buy into long term industrialisation and urbanisation in China and India, which does lead to higher resource consumption per capita. You are being more than compensated for these risks in the current share price. It is cheap, very cheap. And if you needed reminding, it is the premier mining company on the planet, the best quality assets, a great management team and the least volatile earnings amongst their peers. We maintain our bias to the company and continue to buy the stock.
Sorry, I have been out of action since Monday afternoon, would you believe that I have had a bad case of tonsillitis. Horrible. Sis, I wouldn't wish this on anyone. So I am not my best at the moment, but I will have a look at Glencore/Xstrata tomorrow after I have digested all of the information in my own time, rather than being rushed. Digest in liquid form of course. And we will also cover ArcelorMittal too.
New York, New York. 40o 43′ 0″ N, 74o 0′ 0″ W. Whilst there is some anxiety around the Greeks continually stalling on signing off on more austerity measures in return for more funds, I am starting to get the sense that people are tired and have recognized that we have probably priced the middle road scenario properly. Markets in New York rallied after their poor start, perhaps the parade of the <….cough, cough….> World Champion Football (as in American Football) team in the city had something to do with that. Nothing like winning to make you feel a little more positive about the world, especially yours. Markets added modestly to their overnight positions, the broader market S&P 500 closed at 1347, up one fifth of a percent on the day!
The "Ben Bernanke" had to endure one of those irritating grilling in front of the US senate budget committee. I am not too sure that these things cannot be resolved with a simple phone call if any of these guys have specific questions. Why don't they do that rather? And all of the questions are not exactly high browed questions and have mostly been answered anyhow. Anyhow, the Senate committee is much better than the House, that is for sure.
Byron's beats has a look at the Coca-Cola results from yesterday. Like is often the case, the fellow who invented the stuff, John Pemberton, well, he died before the stuff even became famous outside of Atlanta. But that is another story for another day.
You've heard me mention the theme 'aspirational consumerism' a few times of late. Let me quickly refresh your memory of what the theme entails because during this US earnings season it has been quite clear that the theme has been robust to say the least. Basically we have a situation, mostly in Asia, where we have millions of people breaking out of the poverty cycle. This allows them to consume products that people enjoy. This ranges from the simpler things in life like an ice cold Coke to more expensive luxury watches. It's not because there is a Cultural Revolution taking place, it's because these products make people happy regardless of where you are from. The fact that most of it comes from the West stems from the fact that a strong middle class has been consuming that side for much longer. People get money, they buy things that make them happy, simple story.

To benefit from this phenomenon we have identified a few companies both locally and in New York that are situating themselves in these markets ahead of the pack. This includes McDonalds, Nike, Richemont, Yum Brands, Apple, Starbucks, Woolworths, Famous Brands and Coca-Cola. Coke came out with full year numbers yesterday which we will now take a look at.

Volumes for the year grew 5% which may not sound like a lot but this is Coke, the base is huge. Revenues grew 33% which reflected an acquisition of the separately listed North America operations. This came in at a whopping $46bn. Earnings for the year came in at $8.5bn, a very profitable business as you can see. This equated to $3.69 per share. The stock trades at $68.55 and a historic multiple of 18.5. Not cheap but analysts expect the company to make $5 a share by 2014 so the growth is what you are paying for.

CEO Muhtar Kent had the following to say about Coke within the global economy. "Even as we believe that global market volatility will continue in the near term, the breadth of our global footprint and the strength of our brands create a resilient business that was built for times like these. As we enter into the third year of our 2020 Vision, our Roadmap for Winning Together remains clear. The assumptions that shaped our 2020 Vision have not changed. Our expectations for long-term, sustainable and balanced growth across emerging and developed markets have not wavered. And we will continue to make significant investments in our future all around the world to support the tremendous opportunity we see in non-alcoholic ready to drink beverages, one of the fastest growing segments in consumer packaged goods."

As a percentage of revenues North America is still the dominant force with 45%, then Pacific (China) with 12.3%, Europe and Latin America with 12% each and Eurasia and Africa with 6%. The bottling business brought in 18% of revenues. And where did the growth come from? In terms of the overall 5% volume growth, North America grew 4% (very good for such a big market), Pacific 5%, Latin America 6%, Europe 2% and Eurasia and Africa 6%.

As you already know we like the theme and the defensive nature. This big blue-chip with probably the most well known brand to man will not let you down. We continue to add at these levels.
Commodities and currencies corner. The copper price is higher at 390 US cents per pound, after a big fall last year, it has crept back up nicely. The gold price is higher at 1747 Dollars per fine ounce, the platinum price is flat at 1647 Dollars per fine ounce. The oil price, that is last at 99.38 Dollars per barrel, that is for NYMEX WTI. The Brent crude oil is last at 116.17 Dollars per barrel. The Rand is steady at 7.53 to the Dollar, 11.98 to the Pound Sterling and 10 exactly to the Euro. We have started better here this morning. Good thing.
Sasha Naryshkine and Byron Lotter
Follow Sasha and Byron on Twitter
011 022 5440