Discovering Bidvest
February 27, 2012 in Uncategorized
"The decline in newspaper ad revenues to a 60-year low is amazing by itself, but the sharp decline in recent years is pretty stunning. Last year's ad revenues of about $21 billion were less than half of the $46 billion spent just four years ago in 2007, and less than one-third of the $64 billion spent in 2000."
Jozi, Jozi. 26o 12′ 16″ S, 28o 2′ 44″ E. We managed to add nearly half a percent on Friday, banks leading the charge after all their more than decent trading updates. Collectively the sector added 2.38 percent to buoy the overall market, the Jozi all share index to 34260, up 152 points or 0.45 percent. Resources ended the day in a slight hole, ever so slightly down. A whole 0.01 percent lower hardly counts, not so? But then again, if you lose by 1 point it feels terrible, not so for Mr. Market though. So close on the first weekend of super rugby, so close for Liverpool fans, they could have felt awful, Paul must be happy this morning, his team from his childhood.
This time of the year it is difficult to get a complete handle and requires some serious extra reading (on top of the extra reading) to be on top of company results and trading updates. I am going to look at results of Bidvest this morning, they have released their interim numbers as folks continue to fight their way through traffic. Humans really need to become more innovative, and manage their time better. That will come in the era of the driverless motor vehicle. Perhaps Bidvest will even sell them.
Let us jump right into these interim numbers, normalised HEPS up 13.6 percent to 613.4 cents per share on revenue that was 15.1 percent higher at 67.3 billion Rand. Headline earnings per share up 37.5 percent to 742.3 cents per share, remember that these results include the realisation of a part sale (half) of the groups stake in the Mumbai airport. That sale yielded nearly 400 million Rand. Earnings per share, which included the impairment of the stake in Comair of 96.7 million ZAR, came in at 710,8 cents per share. I think for the purposes of valuing Bidvest, one should use the normalised HEPS number, there are always going to be trading related issues with a business this diversified.
Net debt increased to 5.6 billion ZAR. Their cash generation (which never lies) is good, operations managed to generate 9.7 percent more cash than at the same stage last year, to 4 billion ZAR before working capital. Bidvest have upgraded their Budget Rent-a-car fleet, that was an expensive exercise. There has been an ordinary dividend of 280 cents that has been declared, which is better by a very handsome 24.4 percent AND a 80 cent special dividend. Somewhere around 600 cents for the year I guess one can expect, if the second half div is hiked by as much as the first half. So, hardly a kings ransom at 172 ZAR a share, with a forward dividend yield of over three percent and an earnings multiple of less than 13 times. To June. Net profit margins are quite low though, but that is the nature of the beast.
More of the valuations metrics that the company finds important, because they are included in the highlights, trading margins were maintained at 4.8 percent. I quite like the opening line of the overview segment where Chief Executive Brian Joffe said that the pleasing performance came off a high base. Nice. I have copied and pasted a few important lines, which gives a divisional breakdown:
"Joffe noted that southern African trading conditions had improved but sectors like light manufacturing, construction and discretionary consumer spending remained weak. Asia Pacific continued to show solid results though Singapore's performance lagged. Trading in the Australian market remained tough but the business continues to perform well. Bidvest Europe's results reflected an improvement at 3663 Wholesale which was offset as Nowaco in Czech Republic and Deli XL Netherlands reported lower trading profit. Bidvest Namibia's growth trajectory continued."
Brian Joffe then goes on to say that the local construction industry should benefit from governments infrastructural spend, even though the local economic conditions whilst improving, growth is still sluggish. Discretionary consumer spend should improve which is good for both their motor and foodservices business. Let us have a look at a divisional breakdown, which businesses inside of their business is the most important slash profitable.
The geographical breakdown of the FoodServices division sees Europe as the bulk of revenues, 58 percent in total, but only 35 percent of total divisional profits. The bulk of the profits from their biggest division comes from Asia Pacific, which contributes 46 percent to overall divisional profits and 15 percent of the overall trading profit of the group. But yet it is 17.5 percent of overall revenues. So whilst it is more profitable than the other big foodservices business, it is not the most profitable in the group. Bidvest Financial services is a very profitable business, but surprisingly, one of their more successful businesses is Bidvest Namibia. Namibia crushes the other Southern Africa businesses, in terms of trading profits, I started to wonder how big Bidvest was in the context of the whole Namibian economy. Well, the half year revenues are around 1.2 percent of the entire Namibian GDP. They must be a serious business inside of a relatively small economy, around 2.5 percent. In fact, the annual revenues of the Bidvest group are much bigger than the entire Namibian GDP. Phew.
OK, but why would one want to own a business like Bidvest? There are many moving parts in different parts of the economy, a geographical spread which is quite difficult to grasp and a head office structure that keeps a handle on all of the businesses. There is also the successor issue, I suspect that there is more than enough quality internally. There are loads of quality people there. The margins are low, that has always been a concern here. But, this is a company that for the above reasons attracts many a passive investor. They have delivered year after year, and for the first time in a while look relatively cheap when measured against the rest of the market. They are off our main list, but on our secondary list. From a pure out and out diversification point of view, they are a quality company that would compliment any portfolio well.
Byron's beats has a look at a company in an industry for whatever reason, people love to hate, but yet without it, we would be found wanting. Insurance of the health and life sort.
On Thursday we had interim results for the 6 months ended 31 December 2011 from Discovery who have managed to yet again produce fantastic results. Highlights include a 20% increase in headline earnings to R1.1bn whilst embedded value per share which is how the in house actuaries value the company has increased 18% to R51.20. An interim dividend of 50c was announced. Since listing in 2000 this company has managed around 35% compound return. So how is this business made up? Let's look at the divisions separately.

Discovery Health, the medical scheme managed to grow earnings by 10% in what is supposed to be a mature market. This division is responsible for 38% of earnings. We really like this sector as medical technology improves and more people enter the income bracket to afford such services. Discovery have been extremely innovative in order to grasp market share from other competitors in South Africa. This will continue as management carry on investing in technological and service innovations. They also have some positive things to stay about the state of the market they operate in which bodes well for the future.

"It is important to state Discovery Health`s belief that our private healthcare system, while having room for further improvement, is excellent, sustainable and an important national asset. This may seem in stark contrast to common views of waste and inevitable decline in the private healthcare system. A rigorous analysis of the facts suggests the opposite. Access to care for those covered by medical schemes is comparable to the best healthcare systems found in developed markets."

Discovery Life which is the life insurance business and is responsible for 48% of earnings managed to grow these earnings by 12%. Again product innovation and quality services were responsible for this growth as engagement with Vitality in terms of premium calculations helped with pricing. This business is extremely cash generative and what is done with the monthly premiums has a huge impact on earnings. The Discovery team boast a return of capital in excess of 27% since inception. Quality companies attract quality employees as Sasha so often points out.

The Vitality initiative is doing fantastically as members become more proactive and Discovery can track the activities of their members. Not only does it keep members fit and healthy which decreases fatalities and health issues but it also allows for fantastic pricing information.

"The Vitality model is powerful: it creates a virtuous actuarial cycle wherein rewards are used to incentivise the appropriate behavioural change; behaviour change leads to a reduction of mortality and morbidity, thereby reducing claims costs; and the reduction in claims costs ensures that the system remains in balance, and so on. The benefits of this cycle are experienced by all stakeholders: clients, Discovery and society. It is this cycle that Discovery aims to replicate in a number of markets." So lots of potential to take this fantastic model into China and the UK.

Talking about the UK they finally seem to be gaining some traction, turning a R5 million loss into a R162 million profit. With their vision to build pretty much what they have done in South Africa they reckon there is a lot of potential for scale and profits. It's always nice to have the international diversification. Inroads are being made with a similar strategy with their 20% stake in Ping An Health in China.

Furthermore, Discovery recently rolled out Discovery insure where expectations have already been exceeded with nearly 8000 policies being written. They see a gap in this market and you would have to back them to implement it properly.

So what do the valuations look like for such a well run company that has very exciting prospects. They made 198c for the half on a share that trades at R48. According to forward earnings expectations they are trading at less than 10. We like the company and back the management to carry on implementing the right decisions. I suppose the biggest risks lies with regulation and the NHI plans. I don't think that people will sacrifice medical security and again you would back Discovery to stand up to the challenge. A solid buy at these levels.
African Rainbow Minerals, better known as ARM reported half year numbers for the six months to end December 2011. Headline earnings increased 24 percent to 1.94 billion Rand, HEPS clocked 912 cents per share for the half, no dividend is declared in the first half. The weaker Rand helped offset the weaker Dollar prices of their commodities that they sell. They are not an out and out producer, they just manage stakes in some strategic commodities. In fairness, they have really great management who have been able to do this, like many commodity producers have been helped out by a dramatic jump in Chinese demand over the last decade, that has been key to all commodity prices rising.
Most important though, is that their production volumes have managed to increase, that is really the key to any commodity producer. But, when you break it down by contribution to headline earnings, it suddenly becomes apparent that this is an iron ore company. So whilst often the company presents itself as a diversified commodities company, the truth is that whilst iron ore revenues represent 43 percent of group sales (Manganese 18 percent, Platinum 21 percent), the bulk of the profits, almost all are from Iron Ore. The contribution of ferrous metals to the group are 1.974 billion Rand out of a total of 1.944 billion Rand. Huh? Nkomati Nickel and chrome, Coal and Copper all make losses and only PGM's at 162 million ZAR and Gold (Harmony stake) at 38 million ZAR contribute positively to the overall group earnings.
But, but, but, the copper project in Zambia at Konkola should at full production be in the region of 45 thousand tonnes per annum. That is still a way away though. And the coal assets look like they are also heading in the right direction. But we live in a world of choices. I like the commodities story as a whole, but we would rather be in BHP Billiton for our style that suits our clients, which is both geographically and divisionally diversified.
Parting shot. This is the most eye popping graph you will see today, and it came to me via one of my favourite bloggers, Prof. Mark J Perry on his blogsite Carpe Diem, borrowing the phrase from everyone from Robin Williams in Dead Poets Society. First the picture: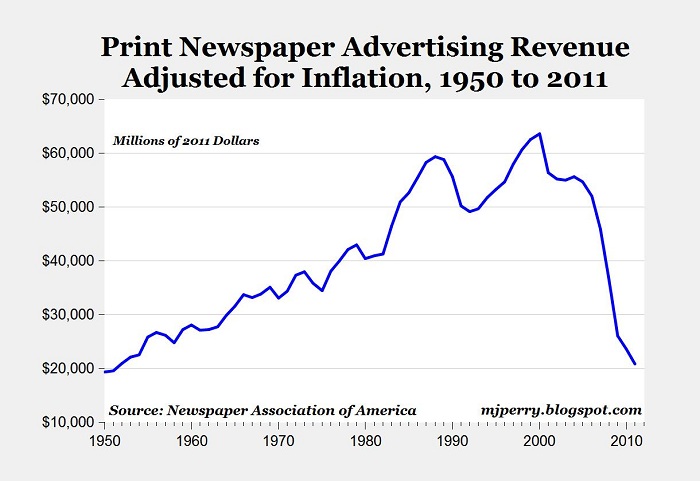 What are those? Well, from his post: Newspaper Ad Revenues Fall to 60-Yr. Low in 2011, the headline tells a thousand stories.
"The advertising revenues have been adjusted for inflation, and appear in the chart as millions of constant 2011 dollars. Estimated revenues of $20.7 billion in 2011 will be the lowest annual amount spent on newspaper advertising since $19.5 billion in 1951, exactly 60 years ago.
The decline in newspaper ad revenues to a 60-year low is amazing by itself, but the sharp decline in recent years is pretty stunning. Last year's ad revenues of about $21 billion were less than half of the $46 billion spent just four years ago in 2007, and less than one-third of the $64 billion spent in 2000."
When we talk about paying attention, that is what we mean. Be aware of the trends around you and their investment ability, one way or another. Less old media, more new media.
The decline in newspaper ad revenues to a 60-year low is amazing by itself, but the sharp decline in recent years is pretty stunning. Last year's ad revenues of about $21 billion were less than half of the $46 billion spent just four years ago in 2007, and less than one-third of the $64 billion spent in 2000."
When we talk about paying attention, that is what we mean. Be aware of the trends around you and their invest ability, one way or another. Less old media, more new media.
Sasha Naryshkine and Byron Lotter
Follow Sasha and Byron on Twitter
011 022 5440