BHP Billiton feeling gassy
August 3, 2012 in Uncategorized
"They have taken a write down on two assets, one an Australian Nickel asset and the other a recently acquired North American gas asset. And these are not small number, they are big numbers."
Jozi, Jozi 26o 12′ 16″ S, 28o 2′ 44″ E. We reached another intraday high before the stimulus junkies were rocked with seemingly a wait and see approach from the ECB. There was nothing new from the ECB and as such the markets sold off. We watched the press conference, I got the sense that the journalists there were grilling him, asking questions based on the assumptions of the markets last week, with the "we will do everything to save the Euro" statement. ECB governor Mario Draghi was pretty cool under the pressure, he said that they need to look at the data in front of them, they were dealing inside of their mandate. Draghi just said that when the funds were in place, the ECB was ready to pounce. There were many things in the Q&A session that left everyone scratching their heads. The fact is that Mr Market and the broader participants want to see action yesterday, but it is still going to take some time. It is a family living under one roof with multiple problems.
The upshot of it all was of course a selloff in stocks, although we were spared the major selling that happened globally in part due to a weakening currency here. The old risk off trade, selling down riskier assets, and no matter which way you look at it, we are the riskier assets. Joburg might be home to us here, but on the global map, well it is just like Jakarta or Bangkok. An exciting place, but perhaps not the safest, if you know what I mean. The Jozi all share index managed just to cling to 35 thousand points, so I would not feel beat up. In the background the Italian and Spanish heads of state were holding talks in the Spanish capital, it sure looked like a lovely day. I don't know what to say other than the Europeans are solving their problems. Just very slowly.
An announcement from BHP Billiton this morning is met with a touch of disappointment, but I guess a sign of the times. They have taken a write down on two assets, one an Australian Nickel asset and the other a recently acquired North American gas asset. And these are not small numbers, they are big numbers. Here is the official announcement US Shale and Australian Nickel Asset Review, and here are the two key lines:
"Low US gas prices due to a short term over supply of gas have resulted in an impairment of US$2.84 billion (before tax) against the carrying value of the Fayetteville shale gas assets acquired from Chesapeake Energy in February 2011. The Company will also recognise a US$450 million (before tax) charge against the carrying value of its Nickel West assets as a result of margin deterioration. Both impairments will be recognised as exceptional items."
So what has actually happened to gas prices over this time? It has been really well documented, natural gas prices have collapsed over the last winter, which was much milder than the prior winter, but also as Marius Kloppers says in the release, there is a whole lot more production now. This of course is good news for the consumer, but bad news for the producers. First things first, here is a price graph of the last 20 years, courtesy of Trading Economics, Natural Gas price graph.
That graph does not really show you the collapse of the price recently, so here is a much shorter graph, where I show you how Nat gas prices were absolutely crushed from the time that they made the acquisition (where there is a circle) and where the price went below 2 Dollars/MMBtu. MMBtu? One million Btu, where a Btu is a British Thermal Unit. Which, as per Wikipedia a "Btu is defined as amount of heat required to raise the temperature of one 1 pound (0.454 kg) of liquid water by 1 oF (0.556 oC) at a constant pressure of one atmosphere.". So this is not that complicated, it is just not really a unit that we are used to, possibly because we do not use that much gas. But here shows you the timing of the acquisition, not very good in the short term: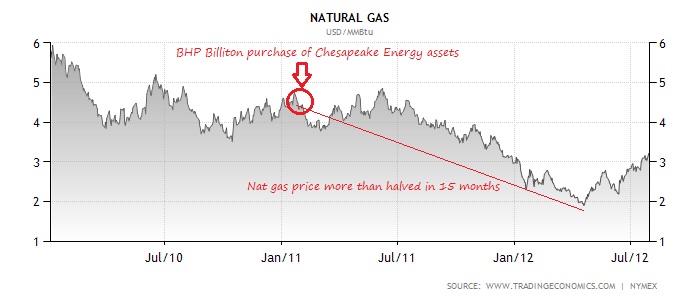 The reason for the shale gas purchase in the first place is that this was an opportune moment, because the future is good, we will get to that later. But in the meantime, via one of my favourite bloggers, this happened: Natural Gas Spot Prices Now Below $2: Adjusted for Inflation, That's the Lowest Since the Mid-1970s. That is not good. But what is good is that there has been an explosion in the natural gas market in the US, the country is pressing to become energy independent. So much so, that Prof Perry is blogging With Our Abundance of Natural Gas, Let's Export.
I guess that the timing was all wrong, but it could have been a whole lot worse, check out the twenty year price above. In the end I think that these assets will prove to be really good ones. For the meantime, they are struggling. And if you read a little lower down the release you see that both Mike Yeager, who is the CEO of the Petroleum division and Marius Kloppers, Group CEO have decided to forgo their bonus in 2012. Hmm…. that at least is a small comfort to shareholders. This was inline with the market expectations, and the stock has hardly budged this morning. BHP Billiton results will be released on the 22nd of August.
New York, New York. 40o 43′ 0″ N, 74o 0′ 0″ W. Forget what happened yesterday, because in this tough environment if you are a day to day trader type, today is undoubtedly the biggest day of the month. Because it is non-farm payrolls, the day that everyone gets to pencil in their predictions, and then you are measured against a moving target. This old Barry Ritholtz piece is still worth a read: Wise Up to the Proper Flaws of Monthly NFP Data. Again, because I have pointed you in that direction a few times, as Barry points out "You are dealing with data that is cyclical, very difficult to measure in real time, based on statistically small changes of a very large number." And then his conclusion is based on three things that he finds important: "The key to NFP is understanding what aspects of the monthly release are useful. To me, that would be the overall trend, and three internal measures: Hours worked, temporary help, and wages paid."
For the record, OK, the predictions are as follows: Hours worked is expected to stay at a constant 34.5 hours a week. Sounds like a half week. Just kidding. Wages paid, well average hourly earnings are expected to tick up by about 0.2 percent from last month. Temp help, well that we will only see in the report itself. The two headline numbers that will get a lot of attention will be the unemployment rate, which is supposed to be unchanged at 8.2 percent. The growth in nonfarm payrolls is suggested by the pundits to be around 100 thousand. I would also say that you should watch out for revisions of those numbers of the three months prior, that is also something important in the few minutes after the release. I can't, or Barry above can't take away the importance of this number globally. It is the number that everyone watches for the health of the US economy.
Byron's beats explores a company that offers entertainment in a different format. Loads of people like to partake, in fact I engaged in a little SingStar last weekend at a friend's house. I was rubbish, although I did win one round.
One of the great benefits of having access to the US market is the opportunity to invest in really exciting companies that you would not normally have access to. One such company, which falls in our list of recommended stocks, came out with second quarter results. I'm talking about Activision Blizzard. If you are unaware of what these guys do, here is the description from their website.

"Headquartered in Santa Monica, California, Activision Blizzard, Inc. is a worldwide online, PC, console, handheld and mobile game publisher with leading market positions across every major category of the rapidly growing interactive entertainment software industry.

Activision Blizzard's portfolio includes best-selling video games such as Call of Duty as well as Spider-ManT, X-MenT, James BondT and TRANSFORMERST, leading franchises such as SpyroT and Blizzard Entertainment's StarCraft, DiabloR, and Warcraft franchises including the global #1 subscription-based massively multi-player online role-playing game, World of Warcraft." I'm pretty sure there are a couple of nerds roaming around those headquarters!

To gain a perspective of how big this industry is, when the company released Call of Duty: Modern Warfare 3, 6.5 million copies were sold in the first 24hrs. That pulled in revenue of $400 million in 24 hours for the biggest entertainment release of all time, bigger than any movie. The biggest movie release was The Avengers which grossed $200 million in the opening weekend. In fact total sales of Call of Duty have beaten both the Star Wars and Lord of the Rings film series.

So let's look at the numbers because a good company is not necessarily a good investment. Revenue for the quarter came in at $1.054bn with operating income of $300mn. This equated to 20c a share well above estimates. Analysts expect the company to make $1.07 for 2012 while it trades at $11.77. Surprisingly the company looks quite cheap with a forward PE 11.

Of course there is reason for the low valuation. Vivendi, a French based media company owns 61% of the company and have been looking to offload the stake. That is not a good sign and as Paul points out, it is like Barclays trying to offload its ABSA stake, there must be a reason why. There has also been a decrease in product sales as the financial crisis has put pressure on such discretional spending. The industry is also in a transition with big shifts to online gaming causing console based sales to fall to its lowest levels since 2007. Even though Activision's earnings beat expectations, they were down 45% from the last quarter.

So do we buy the stock after weighing the pros and cons? I still like it. It is volatile and relies heavily on blockbuster releases. Innovation for new and better games is paramount. And what about the shift to online gaming? They are of course embracing this and already have an agreement with Tencent in China to release Call of Duty online. That is very exciting. It looks like most of the bad news is already factored in. It is not for the faint hearted and can be volatile but if you are willing to ride the wave there is a good and exciting opportunity here.
Currencies and commodities corner. Dr. Copper last clocked 333 US cents per pound, the gold price has ticked up to 1594 Dollars per fine ounce. The platinum price has also ticked higher to 1391 Dollars per fine ounce. The oil price is last at 88.21 Dollars per barrel. The Rand is last at 8.26 to the US dollar, 12.85 to the Pound Sterling and lastly 10.11 to the Euro. We have started higher here again today, but everything depends on that number a little later this afternoon.
Sasha Naryshkine and Byron Lotter
Follow Sasha and Byron on Twitter
011 022 5440