Non event
September 21, 2012 in Uncategorized
"The consumer seems OK. Unsecured lending has eased off the record levels seen a year ago, but higher wage settlements means that the means to service debt improves. And then the two issues that impact inflation the most. Food and energy. The MPC expects ANOTHER increase in petrol prices. Time to get a hybrid. Or a scooter like my mate Howie. Demand is still weak. Which means the risks are balanced and as such, rates were kept on hold."
---
Jozi, Jozi 26o 12′ 16″ S, 28o 2′ 44″ E. Platinum stocks took another pasting, Impala and Amplats have had a recent run, but Lonmin fell back again. People are starting to come to terms with higher costs for the platinum miners and lower production. I want to hear what the auto makers are thinking about the supply. Industrials as well as retailers had a very decent day, the main event of course was the Reserve bank conclusion of their meeting. After all was said and done the broader market, the Jozi all share index slipped 100 odd points to end at 36360.
---
So we had the MPC (Monetary Policy Committee) deliver their rates verdict yesterday. If you want to read the transcript, follow the link STATEMENT OF THE MONETARY POLICY COMMITTEE. During the course of the speech Reserve Bank Governor Gill Marcus was lining us up for what I thought might be an unlikely cut. In fact the first line said it all: "Since the previous meeting of the Monetary Policy Committee, the global growth outlook has weakened further." Maybe.
The outlook for inflation is mixed, and although it has deteriorated somewhat, the MPC expect CPI to stay in the "safe" zone (3-6 percent) all the way through to 2014. Core inflation however is expected to be lower. But I don't like the idea of not being able to consume food and energy. Although the Reserve Bank had noted that both business and labour unions inflation outlook was higher than the analyst community. Well, well.
The all volatile Rand. Wow. How do you take a view on the currency? It is hard. Whilst we have benefited to the tune of 74.5 billion ZAR of inflows to our bond market this year, as a result of inclusion into the Citibank World Government Bond Index or WGBI, the events of Marikana have taken their toll. Plus the deficit has widened as a result of weaker exports and increased imports and service payments. Weaker exports as a result of lower commodity prices, these are factors that we have very little sway over.
And then when she (Marcus, not the cats mother as my mum used to scold me) lined up with a lower growth outlook, I thought, this might be it. And saying that despite these revisions downwards, there could be further downside risk, that was more evidence of slower growth. Nooooooo. Say it aint so. Civil construction seems to be improving whilst residential construction remains weak. There is a glaring gap between government and private sector investment, government is comfortably ahead.
The consumer seems OK. Unsecured lending has eased off the record levels seen a year ago, but higher wage settlements means that the means to service debt improves. And then the two issues that impact inflation the most. Food and energy. The MPC expects ANOTHER increase in petrol prices. Time to get a hybrid. Or a scooter like my mate Howie. Demand is still weak. Which means the risks are balanced and as such, rates were kept on hold. No change. You cost of servicing that debt remains the same. And 19 out of 20 economists polled were right, not too sure where that one put themselves out on a limb.
---
Lonmin yesterday suggested that there are going to be job losses, as we suspected. I read in a number of online sources that Amplats and Implats workers are already looking for increases. On top of increases that both sets of workers have already received. But the whole issue of what is a living wage and what is not is definitely been brought front and centre. But the profitability of the business is also as important, there are no private companies that lose money year after year and are still operational. No business equals no jobs. And if I need to remind you, if mining were so easy, there would be a lot more people who are able to do it. Unions would mobilise their own capital and share the spoils. I wonder why they don't? Too expensive to start?
It is not often that one gets a chance to be on the box with two well know folks in South Africa, but that is what happened to me this morning. On Etv, the free to air channel, I was invited as a guest to talk mining from an investment point of view alongside none other than Bheki Sibiya, the CEO of the chamber of mines representing the businesses and Frans Baleni, who is the General Secretary of the National Union of Mineworkers. Some heavy hitters. Issues such as inequality, are the mines doing enough to build the infrastructure and whose responsibility that is, executive pay, worker pay, mineral wealth. The chat was facilitated by host Sindy Mabe, who is one of the anchors of Etv's sunrise. It was interesting for me, because I do not move in the same circles as the other two guests. They seemed gravely concerned, but at the same time both recognise that they are making progress, ironically as a result of violence.
Today, as I understood it from both Baleni and Sibiya, there is a meeting between all the mining companies and all the unions facilitated by the Chamber. I desperately hope that they meet some sort of common ground. Afterwards I managed to get a picture of me snapped with the host, Sindy and with Frans, check it out below, captions added by me. Darn, I should not have worn red!!!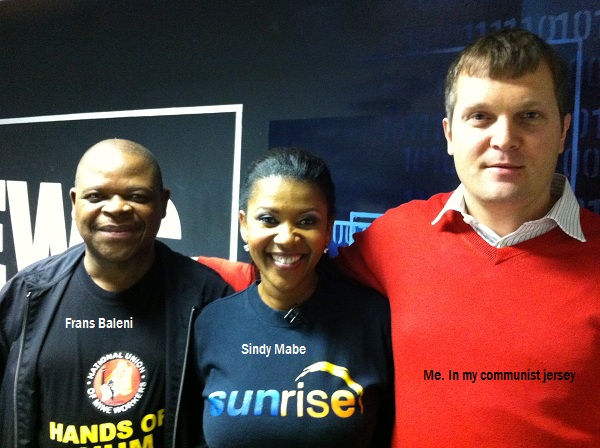 I left feeling worried. But it is human nature to worry. I worry that the demand side for commodities is not always going to look like it has over the last ten years. But I am sure that increased consumption patterns in China, and across the rest of the Asian continent bode well for the platinum industry and perhaps the gold industry. But what about the bulk products? Should there not be a big push towards manufacturing, or am I dreaming right now. I wish I knew what the solutions will be. It is tough. Miningmx had this to say, which makes me hopeful again: Panel appointed to drive platinum labour debate. Yes, more talking, less fighting.
---
Telkom. Whoa. I better be nice, I am meeting my mate tomorrow who works there. Perhaps he won't read this, and we must be fearless here, we are not trying to do anyone any favours. Byron often says to me, why do you bother covering Telkom? None of our clients hold them through our recommendation. But then I remember the time that people used to say, but Telkom for the yield, MTN have a very slim yield. We always were comfortable that MTN could continue the growth whilst Telkom had a business in decline. And they are struggling.
Yesterday the company released a profit warning. I needed to find the exact wording, so I thought I must visit the Telkom Investor relations website, but all I got was the image below:

Meh. Enough Telkom bashing, here is the release which I found elsewhere: "Shareholders are advised that basic earnings per share from continuing operations for the six months ending 30 September 2012 is expected to be at least 45% lower than the comparative period in the prior year. Headline earnings per share from continuing operations for the six months ending 30 September 2012 are expected to be at least 65% lower than the comparative period in the prior year. The lower earnings are mainly attributable to an increase in the provision for Competition Commission fines relating to transgressions of the company dating back approximately 10 years."
Earnings per share for the 6 months to end September 2011 clocked 32.5 cents. Headline earnings per share from continuing ops for the same period was just 191.7 cents per share. So, for the half expect EPS to be around 18 cents per share and HEPS from continuing ops to be around 67 cents. Beware the company that continues to provision, Telkom have had too many as a listed entity. That implies poor decision making. You know the story. The assets that Telkom have are far more valuable than the share price implies. But the management continue to muck it up. I blame the main shareholder as fiddling too much in the business. But this is why I continue to pay attention here, you must watch the companies that you do not choose either. Continue to avoid.
---
Digest these links.
The iPhone 5 goes on sale today. Not here of course, but elsewhere, in Aussie, the UK, selected European countries, Hong Kong and Japan. I have seen the queues and I have seen people saying that they have been waiting for a few days already. How Apple does it, I am not too sure, the allure of the product to ordinary people is currently not replicated elsewhere. The only other time that I see crowds that hungry for retail products like this is on Black Friday, the day after Thanksgiving in the US. The magic of the iPhone though is that fans are universal. Check out the FT review: Crowds queue to snap up latest iPhone. The maps so far are the only issue that I have come across.
I cannot stress how much I enjoyed this blog entry specifically. Because in light of this mornings TV debate, this piece titled Quotation of the Day: The Fallacy of Redistribution deals with a lot of populist issues. The conclusion is key for me, I often say to folks, if I could change only one thing, it would be education in this country. Check this out and nod: "If the redistributionists were serious, what they would want to distribute is the ability to fish, or to be productive in other ways. Knowledge is one of the few things that can be distributed to people without reducing the amount held by others. That would better serve the interests of the poor, but it would not serve the interests of politicians who want to exercise power, and to get the votes of people who are dependent on them." Quite true, but then again this resonates with me.
Sometimes you just make an acquisition which at the time seems like a good idea, but turns out not that great. This is again not a good outcome for Adidas, who have lowered their 2015 sales guidance for their Reebok brand. Personally I had a pair of Asics when I started, then Nike, then I had a pair of Reebok's but settled back with Nike Air Pegasus. So personally I prefer Nike, but Adidas are a great brand too. Sadly Reebok seem to be struggling. As per the release, adidas Group reinforces confidence in Route 2015 targets: "Following the strategic decision not to renew the previous NFL licence, a change in reporting of NHL-related licence sales and the Group's focus on margin and operational efficiency, Reebok's 2015 sales target is now reduced to € 2 billion from € 3 billion (about one third of the reduction relates to NFL- and NHL-related sales)." That amazes me. One third of Reebok revenue comes from NFL and NHL. The National Football League is now sponsored by Nike. What a twist!
---
New York, New York. 40o 43′ 0″ N, 74o 0′ 0″ W After a poor showing stocks rallied all the way through to the close to end flat on the session, at least in the case of blue chips and the broader market. Transportation stocks got crushed, UPS, FedEx and Union Pacific, the heavyweights taking some tap. Microsoft announced another increase in their quarterly dividend, that was pleasing for their shareholders, the stock was up one and a quarter percent. JC Penney and Bed, Bath and Beyond got carried out the back door and whacked with pillows full of lead. I guess the Amazon impact is weighing heavily on these retailers, time will tell whether Amazon.com will rule the retail world.
---
Currencies and commodities corner. Dr. Copper last traded at 375 US cents per pound, the gold price is higher at 1773 Dollars per fine ounce. The platinum price is higher at 1631 Dollars per fine ounce. The oil price is higher at 93.07 Dollars per barrel. After a few days of taking a beating, I am sure that the oil pits are a little more settled. The Rand is a little firmer, 8.27 to the US Dollar, 13.46 to the Pound and 10.75 to the Euro. The market is lower to start with, ahead of a long weekend here in Joburg.
Sasha Naryshkine
Follow Sasha and Byron on Twitter
011 022 5440