They are nuts
February 6, 2013 in Uncategorized
"Those crazies in North Korea are threatening something worse than a nuclear test. Bozos. If I could hope for one thing in my life it would be freedom for the people of North Korea. Right there is the best example of socialism (communism) and democracy (although not entirely) next to one another. How a more and a less liberalized economy has benefitted the people. If any crazy communist tells you of the collective and how it works better, just ask them the simple question, how many people crossed the Berlin Wall from the West to the East?"
---
To market, to market to buy a fat pig. Gee, that was quicker than I thought. Equity markets bounced back pretty hard yesterday, in part due to some better than anticipated services data out of Europe. The US number was a meet, and that was good enough. A bounce back this quickly suggests that there is more than one fellow fielding at back stop. With Dale Steyn seemingly you don't need that! We were there Saturday to watch the most amazing bowling spell in a while, but my kids dragged me around looking for hats and ice creams, so I didn't quite catch all of it.
Away from the cricket there was the confirmation that Michael Dell, a private equity crowd and Microsoft money wants to take Dell private. This was a poorly kept secret anyhow, the WSJ reports: Dell to Sell Itself for $24.4 Billion. The FT's take is similar, the price is fair relative to where it has been recently. Although as we explained yesterday, it all depends where you drew your line in the sand, the last one, five and ten years have been poor for stockholders. So why now? If approved by shareholders this would be the biggest ever tech buyout and the largest deal since the financial crisis. That stinky period. But, again the FT reports (Daring $24bn deal to make Dell relevant) that none of the investors have presented a proper plan of how they would turn the business around.
So, how would this make you feel as a long suffering Dell shareholder? Particularly in a world where Walt Mossberg of the WSJ just suggested that the newest Microsoft product has an average battery life and is more than a little clunky? Why is that relevant? Because Microsoft are pretty much in the same boat as Dell. Business Insider have a great piece showing what Dell could do: EXCLUSIVE: Here's The Secret Private-Equity Plan For Dell… A truly great piece from Henry Blodget. Whatever your take is, the fact that a deal of this size is taking place, that fills me with confidence. Deals only happen at this sort of scale when folks are confident about the future.
Those crazies in North Korea are threatening something worse than a nuclear test. Bozos. If I could hope for one thing in my life it would be freedom for the people of North Korea. Right there is the best example of socialism (communism) and democracy (although not entirely) next to one another. How a more and a less liberalized economy has benefitted the people. If any crazy communist tells you of the collective and how it works better, just ask them the simple question, how many people crossed the Berlin Wall from the West to the East? 5000 odd people defected to the West from the East and 136 died trying to cross over. I can't find any stories of people trying to escape across the Wall into the arms of communism. If you find, please share. That tells me all that I need to know about socialism. And perhaps the most understated fact was that 2.5 million skilled folks left East Germany for good in the lead up to the wall being built. Extreme socialism, it really is a downer for economic progress. The state cannot do a better job than private money. Impossible, remove the profit incentive, remove willing and able human beings.
---
Jozi, Jozi 26o 12′ 16″ S, 28o 2′ 44″ E Platinum stocks weighed on the overall market, Impala Platinum specifically, that stock was down nearly three percent on the day. The stock is slightly lower over 12 months, up a lot over six months, around 23 percent, but down 38 percent over five years. Phew, if nothing the Implats ride has been really volatile. Perhaps someone at the Mining Indaba in Cape Town did not like what they saw there. Wild. This morning there are results from Sappi, another volatile stock, and the market is not taking too *nicely* to the numbers. Personally it is not a sector that we either consider a growth area, or one that has steady and reliable earnings. Sappi has neither and judging from the short term outlook, debt is going to continue to increase, and earnings are going to go sideways for a while. I quite like their specialised cellulose business, and the applications associated with the product, those look decent enough. It is also a market that they are making a bigger part of their business. But the old legacy assets that they have, man, I just wouldn't touch it with a borrowed barge bowl.
---
MTN have been in the news over the last week or so, we should have expanded on what looked like a rather important announcement. Here is the very best SENS from the MTN investor relations website: MTN — delivery of report by Independent Committee. We were waiting for this, and I am sure that in recent days the stock has been lifted to higher levels on the basis that the allegations of an individual might actually be dismissed. That would obviously leave Turkcell with some egg on their face, if it was the case. Remember that this was the internal MTN investigation findings. Before you say, yeah right, I knew that was going to happen all along, bear in mind that Lord Leonard Hoffmann is chairman of this board tasked with looking into these allegations and his very good reputation is at stake. The next date to watch out for then is closer to the middle of this year, where the US Supreme court will decide whether or not it has jurisdiction or not. We will keep a close eye on this one.
The other newer and fresher piece of news is that MTN have announced this morning that they have increased their interest in MTN Cyprus to 100%. And there we thought all along that it was the odd one out, if you know what I mean. Odd one out in the sense that the GDP per capita in Cyprus is a great deal higher than their other operating territories. I suspect that MTN will continue to use a more mature and developed market, Cyprus, as a sign of things to come. The announcement does not even say how much half of the MTN Cyprus business is going to cost them. Small enough to not be reported, but I guess nevertheless an important market. I suspect that all markets are important for MTN, including Iran, where they are seemingly always up to some strange things. Including plastic jet fighters and sending monkeys to space. Real or not, this is what folks I read think of it: Iran's New 'Super' Stealth Fighter Jet Is Totally Fake.
---
Byron beats the streets. This morning we received a trading statement from Vodacom for the quarter ended 31 December 2012. Group revenue was up 1.7% but within this sales number there were lots of moving parts. Group data grew 23.3% while data customers grew by 33.8% to 18.5 million. People sure are lapping up those smartphones. The international operations grew 22% whilst group customers grew 12.2% to 51 million. Of those customers, 30.6 million are from South Africa where clients grew 11.7%.

South Africa is still comfortably the biggest revenue driver with R15.5bn of the groups R18.3bn. This is certainly a concern and a risk. I would not go as far as to say the South African market is mature because I think current subscribers still have a long way to grow. But I do feel that the opportunities north of our borders are more attractive.

In SA data revenue grew by 17.2% to R2.3bn. It is now 15% of sales and growing. Data traffic grew 29.8%.I have said many times that the better smartphones get, the more data will be consumed. In Africa growth is coming from both avenues, new smartphone users and more consumption through better phones. Pricing for data dropped 13.5% but this was compensated for by increasing traffic.

I have already seen negative comments about the ARPU's which have dropped from R161 in the 4th quarter last year to R134 this quarter. I am not concerned about this because a whole new business has emerged in the form of data which is making up for the fall in ARPU's. Ironically the use of data is cannibalising profits from voice and SMS's through services like Whatsapp and Skype and is the reason ARPU's are dropping. If you look at the developed world's ARPU's I would reckon that ARPU's in SA will bottom out and start to pick up as the country becomes wealthier and more developed.

The international business has been growing well and if you exclude a once off sale and currency movements, service revenue increased 22%. Customers grew 12.9% to 20.4 million, data doubled to R306 million while data customers also nearly doubled to 4.7 million users. This was lead by 72.6% growth in M-Pesa which is their mobile payment business that has been so successful in Eastern Africa.

This is what I take from the numbers and how I feel they will look going forward. Subscribers are still growing double digit. This will continue in the rest of Africa but will slow down in SA where we will still see decent subscriber growth. Data will carry on ploughing forward and will become more and more significant in the earnings mix. This will more than make up for the slowdown in ARPU's. After a while I feel ARPU's will start picking up again, especially in SA as more data is consumed thanks to more efficient phones. In telecommunication, when prices drop due to competition, people just consume more and spend the same.

This means that these companies are far from ex growth. We still prefer MTN because they have access to more subscribers and more potential subscribers but Vodacom is still a good investment with good growth prospects and great dividends.
---
New York, New York. 40o 43′ 0″ N, 74o 0′ 0″W This level, that level, we often say around here that the index level is just a number. Everyone has been getting excited about Dow 14000. Because it has been here before, two days ago, but more importantly for the first time since October of 2007. It breached these levels again last evening. But what is more important is earnings, and the market expectations. Jeff Miller from "A Dash of Insight" explained it pretty well in his recent blog post: Dumb Money. The part that I was most interested was the table at the bottom, and I have hacked the first two rows and inserted a forward multiple: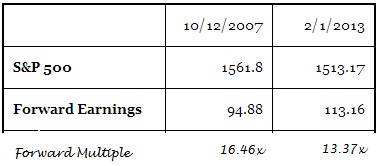 Ok, that means if I apply the same multiple to the current market then I get to an S&P 500 level of 1862, which is 23 percent higher than where we are now. So, at the height of overconfidence the market would re-rate to those sort of levels. We are not even close and earnings are expected to continue to improve from here. So what am I really trying to say? I agree with Jeff I guess, the levels are pretty irrelevant from a historic point of view, earnings are more important. Equally, Mr. Market can simply re-rate lower in a low growth environment, I suspect that is what we have just emerged from.
---
Crow's nest. What is quite interesting is that there is a significant gap that has opened up between the gold and the platinum price, largely due to two things I think. The premium that gold attracted when the outlook was dodgy, well, that is slowly diminishing. And perhaps the major reason is that the platinum market is expecting the first shortfall in over a decade. Certainly not new news, this has been knocking around for a while now. We are higher here again, another record if we close at these levels.
---
Sasha Naryshkine and Byron Lotter
Follow Sasha and Byron on Twitter
011 022 5440